Traditional sticky rice dumplings have the place of honor at tables during the Dragon Boat Festival. Ye Jun shares a few nibbles with some passionate makers of zongzi.
One advantage of being in Beijing is that you can taste zongzi, the glutinous rice dumpling that's traditional for the upcoming Dragon Boat Festival, in the styles of both northern and southern China. No matter the style, the best-tasting are still those that are handmade and traditional.
This year's festival date is June 2, and Beijinger Han Ping is likely to get busy two days ahead. She will visit the grocer to buy everything needed: glutinous rice and candied red jujube as stuffing, reed leaves for wrapping, and thread to tie them made from the common herb pratia.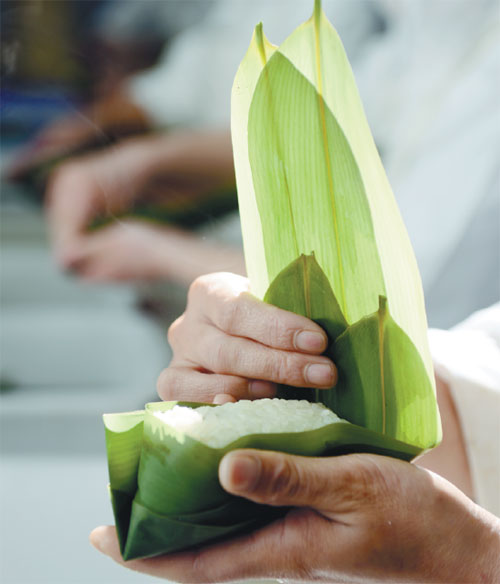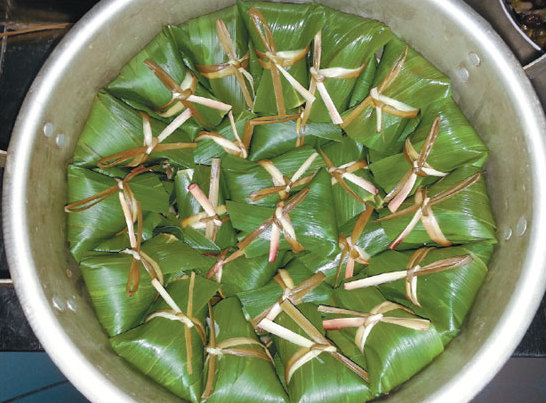 From top: Chefs at Din Tai Fung in Beijing wrap glutinous rice and stuffings with reed leaves to make zongzi. Celebrity gourmet Han Ping arranges her zongzi in the boiler in a circle so that water can spread evenly. Photos Provided to China Daily
The 56-year-old gourmet and TV host will then be ready with dumplings for her friends.
"It is time-consuming work," she says.
It takes her about 70 minutes to prepare more than 70 rice dumplings. After that she boils them to the seething point, and then simmers them for seven hours so they are ready the next morning.
Why boil them so long? "That way, the fragrance of the reed leaf and the aroma of the jujube can get into the rice," Han explains.
Han plans to send the zongzi to friends before evening, when they taste best.
Her secrets include buying this year's rice to make the dumplings. You can't tie the zongzi too tight, she says.
She arranges them in the boiler in a circle so that boiled water can spread evenly. She does not store zongzi in a refrigerator, but in a cooker with cool water. Although they are good for three days, they have the best al dente texture within seven or eight hours.
Another trick to make them taste even better: add a little soda powder to the mixture.
In southern China, people make a special alkali rice dumpling, according to Han, which can make the rice dumplings look temptingly yellowish and semi-transparent. Since cooks in the south always fry dishes with pork oil, which brings a lot of acid into the body, the alkali creates a healthy balance, she says.
Chinese people eat rice dumplings during the festival in memory of Qu Yuan, a poet and politician from the Warring States Period (475-221 BC). Qu drowned himself in sacrifice to his mother country. Local people tried to retrieve his corpse.
When they failed, they made zongzi to throw into the river, hoping the fish and shrimp would eat the dumplings and not his body.
Since then, the fifth day of the fifth month on the lunar calendar is celebrated as the Dragon Boat Festival. People hold boat races and prepare zongzi in memory of Qu's righteousness and his beautiful poems.
People also hang mugwort leaves at their door, and wear fragrant herb sachets for luck.
In northern China, jujube and mashed red bean are the most popular stuffings for the rice dumplings. But in South China, people also use pork, ham and salted egg yolk.
A typical pork-stuffed zongzi is available at Din Tai Fung. Founded in Taiwan in 1958, the restaurant has since offered Huzhou-style dumplings from East China's Zhejiang province.
This zongzi is known for the softness of its rice and the good flavor of its stuffing. Other options offered are mashed red bean stuffing and a creative mix of purple rice and purple sweet potato stuffing.
"We choose side pork containing a medium amount of fat, so that it will not taste too dry or greasy," says Zhan Zhiming, Din Tai Fung's dim sum chef in Beijing. Using Taiwan soy sauce to marinate the pork gives it the ideal fragrance and flavor.
Din Tai Fung's zongzi are boiled for one to two hours, then kept in a closed boiler overnight, so that they become very soft but keep a good shape. The rice in the zongzi absorbs the juice and flavor of the pork.
The mashed red bean zongzi employs another secret: a little pork fat for flavor and aroma.
The third stuffing's ingredients, purple rice and sweet potato, have anthocyanin, which is anti-aging. It also helps to reduce inflammation, has anti-carcinogenic properties and contains minerals, according to Zhan. The purple rice is soaked overnight because it has a coarse texture. Then additional round-shaped glutinous rice is added to increase the stickiness.
The restaurant offers a popular zongzi package of six dumplings that costs 148 yuan ($24).
Many of Beijing's five-star hotels offer a mixture of traditional and innovative versions of zongzi. Sofitel Wanda Beijing, for example, provides zongzi packages in elegant boxes. There are traditional red jujube and mashed bean fillings, along with fresh pork and egg yolk, and five-spice beef stuffing.
Creative combinations include milk and eggs, and shiitake mushrooms with chestnuts. Healthier ones are pearl barley with nuts, five cereals, and alkali with mashed red bean stuffing.
Rice in the dumplings is supplemented with yellow rice, taro and "eight treasures", referring to a mixture of healthy seeds and fruits, such as red jujubes, lotus seeds, pearl barley and wolfberries.
Da Dong restaurant makes a zongzi-shaped morsel, but with Iberian ham as wrapping and glutinous rice inside. Owner Dong Zhenxiang says the dish combines Chinese and Spanish ingredients, and the concept of Japanese sushi.
Even Starbucks has made zongzi products in China - small gems with transparent skins made of tapioca, and stuffing flavors such as macchiato, Earl Grey and strawberry with milk.
Han, meanwhile, is trying to teach her daughter to make zongzi by hand, which she believes will always taste better than those made with machines.
"Traditional food preparation should be passed down," she says.