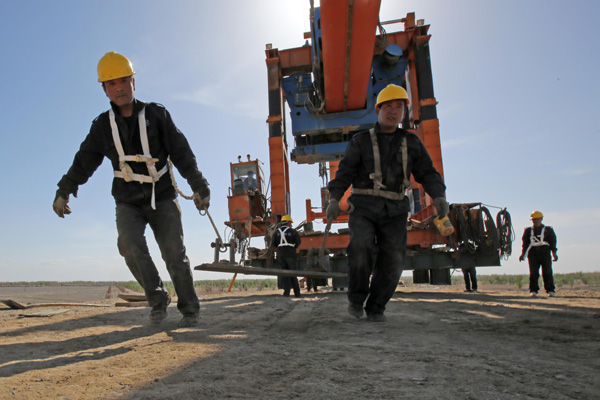 Workers prepare for the construction of a bridge over the Ejina-Hami railway in the Xinjiang Uygur autonomous region last week. [Photo/China Daily]
More steps necessary to reverse trend, says government think tank
China may need more time to reverse the current economic downturn than previously expected, and further measures are necessary to prevent an accelerated cooling, a leading government think tank said on Tuesday.
The country's economic restructuring, which started in 2014, may last for another three to five years, along with a decelerating growth rate, much longer than the previously estimated one or two years, Li Yang, deputy head of the Chinese Academy of Social Sciences, said at a conference on Tuesday.
"We have never felt such a strong sense of urgency to improve economic reforms as now. Meanwhile, new measures should be taken immediately to curb the slowdown," Li said.
However, the economy may also face more risks in the second quarter and show faster cooling in the absence of more support measures. Li said financial risks are increasing, as seen in the accelerating non-performing loans of lenders.
In the first quarter, China's GDP slowed to a six-year low of 7 percent, higher than the CASS' prediction of 6.8 percent, and down from 7.3 percent in the fourth quarter of 2014.
The persistent slowdown has remained for more than four years, following a short rebound stimulated by the aggressive policy package after the 2008 global financial crisis.
A report from the CASS released on Tuesday predicted that GDP growth may slow to 7 percent this year from 7.4 percent in 2014, with a low inflation level, and the Consumer Price Index may retreat to 1.4 percent from 2 percent.
Li Xuesong, deputy head of the academy's Quantitative and Technical Economics Institute, said that some "leverage-add" measures in terms of financial support should be strengthened at the "special time" to stabilize growth.
The People's Bank of China, the central bank, could participate in the local government debt replacement plan, which means it should buy the bonds at "ultra-low interest rates" to buttress base money growth and inject market liquidity, said Li.
Some media have called the bond purchasing proposal the "Chinese quantitative easing plan".
"As it may fuel inflation, stimulate the capital market and depreciate the renminbi, the government needs to be cautious while making such a decision," he said.
The three policy banks could continue to receive more funding from the central bank through the "pledged supplementary lending" to support key infrastructure construction projects, said Li.
The National Development and Reform Commission can also issue special corporate bonds to support construction projects involving shanty town renovation, water works and railways, he said.
The government's latest plan of policy support is unveiling, from the central bank's announcement of a 100 basis-point cut in the reserve requirement ratio, to the increase in lending from policy banks.
The central bank is considering a new Long Term Refinancing Operation tool, whereby local government bonds would become eligible collateral for long-term central bank liquidity.
"Forward-looking indicators do not bode well for a quick turnaround," said Ding Shuang, an economist at Standard Chartered Bank. He said that service industries may fall in the second quarter, while property investment may continue to plummet as home inventories continue to rise.
"The central bank governor may have enough room to act via interest rate and quantitative measures," said Ding, who expected one rate cut and one RRR cut by the end of June and another RRR cut in the second half.