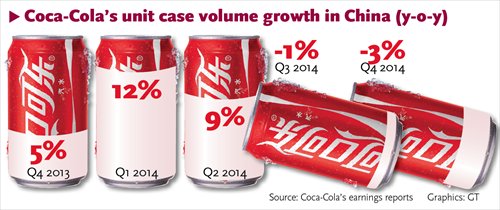 Coca-Cola China announced a $400 million cash offer to fully acquire Xiamen Culiangwang Beverage Technology Co, a plant-based protein drinks producer, a move experts said Sunday will enrich the company's portfolio when sparkling beverages became less favored by customers.
Xiamen Culiangwang, which is based in Xiamen, East China's Fujian Province, sells products including green bean, red bean and walnut variants of plant-based protein drinks under the brand China Green Culiangwang.
After the proposed acquisition, China Green Group, current parent company of Xiamen Culiangwang, will continue supplying raw materials to Culiangwang while Coca-Cola China independently decides order requirements for the manufacture of beverages and raw materials for at least five years, according to a media release China Green Group posted on its website Friday.
Coca-Cola could not be reached to comment on the deal by press time.
China Green Group still retains the "China Green" branded multi-grain food business related to porridge as well as its cultivation business and processing operations of agricultural products, according to the media release.
The proposed acquisition is in line with Coca-Cola's strategy to provide Chinese customers a wide range of beverage products, the beverage giant said on its Chinese website Friday, noting plant-based protein drinks represent a growing category in the Chinese market.
"The acquisition of Xiamen Culiangwang is highly positive for Coca-Cola to adjust its product portfolio and overall development," Zhu Danpeng, an analyst with domestic food industry research firm 21food.cn, told the Global Times Sunday.
The US drink maker is overly reliant on its sparkling beverage products, which have seen sales drop and drag down the company's total revenue, Zhu noted.
Coca-Cola reported a 2 percent global revenue decline year-on-year and 3 percent drop year-on-year in unit case volume growth in China in the fourth quarter of 2014, according to the company's most recent earnings report released on February 10.
With Chinese customers' growing awareness of healthful eating, the sparkling beverages sector has almost no growth potential in the Chinese market, said Liu Xiaofeng, a research fellow with China Minzu Securities, noting that this is the reason why Coca-Cola has been developed still beverages such as juices and sports drinks.
Chinese customers' increasing income has encouraged them to pursue better and diversified diets, creating opportunities for niche or narrow categories of food and beverage products, Liu told the Global Times Sunday.
At the same time, plant-based protein drinks have seen rapid sales growth in recent years while there are still limited producers, so this is a good time for Coca-Cola to enter this market segment, according to Zhu.
Although the application for the acquisition needs to be submitted to the relevant government authorities for review, both Liu and Zhu believed that the proposal will be approved.
Coca-Cola once wanted to acquire China's leading juice maker Huiyuan Juice Group in 2009 with a $2.4 billion offer, but the proposal was rejected by China's Ministry of Commercebecause the move would hurt smaller domestic competitors and limit customers' choices.
However, the proposed acquisition of Xiamen Culiangwang is different from the previous one in 2009, Zhu said, noting Xiamen Culiangwang is not big enough to monopolize the market, even with Coca-Cola.