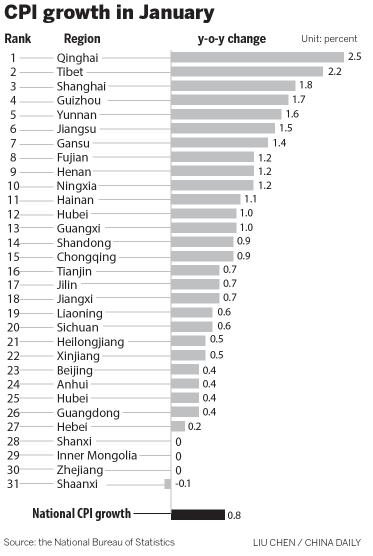 Consumer Price Index growth in most of the Chinese provinces slowed in January, underscoring the imminent deflationary risks for the economy.
According to data from the National Bureau of Statistics, 18 out of the 31 provincial-level regions on the Chinese mainland saw a year-on-year CPI growth of under 1 percent in January.
What was particularly worrying was the zero CPI growth recorded in three regions - Shanxi, Inner Mongolia and Zhejiang. In Shaanxi the CPI fell by 0.1 percent from a year ago.
CPI growth only managed to exceed 2 percent in two regions: Tibet and Qinghai.
National CPI growth slowed to 0.8 percent in January, the lowest reading since November 2009 and the first time that the growth dipped below 1 percent in more than five years.
"This signals clear deflationary risk, which is due to weak aggregate demand in China," said Lian Ping, chief economist of the Bank of Communications. The bank forecast a CPI growth in February of between 0.9 and 1.1 percent.
The NBS will release CPI data for February next Tuesday.
A low inflation rate has already created enough room for the central bank to cut interest rate. The People's Bank of China on Saturday cut the benchmark interest rate by 25 basis points, after which the one-year lending rate fell to 5.35 percent and the one-year deposit rate to 2.5 percent.
However, as inflation has fallen in tandem with nominal interest rates, real borrowing costs are little changed despite the two rate reductions. Monetary conditions also remain tight, analysts said.
"The decline in inflation has rapidly pushed up the real interest rate. The average of CPI and PPI has dropped substantially by 170 basis points since the fourth quarter of 2014, while the nominal interest rate has remained sticky despite the November rate cut, with average bank lending rates edging down only around 20 bps and our estimated overall financial cost barely moving," said Wang Tao, an economist with UBS.
"As a result, the real rate has moved up by more than 100 basis points since the fourth quarter, according to our estimates," she said.
She and many other economists argued for further monetary easing to ease the real interest rate growth.