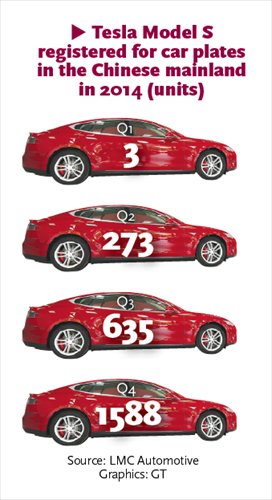 Another top Tesla executive in China has left the company, a Tesla PR employee in Beijing confirmed with the Global Times on Wednesday, after the China sales numbers undershot its CEO's expectations.
June Jin Jun, Tesla's vice president for communications and the chief marketing officer for the Chinese market, is no longer with the company, according to the PR employee, who declined to be named.
The PR employee did not offer further details on Jin's departure citing company policies.
Jin is the third high-ranking China executive to leave Tesla in less than one year. Veronica Wu Bixuan, former head of Tesla China, left Tesla in December. In March 2014, Wu's predecessor Kinston Chang also left the company.
During the Detroit auto show in January, Tesla CEO Elon Musk said that China sales were weaker than expected partly due to "communications issues," mostly over charging.
He said there's a misunderstanding that charging is difficult in China, according to media reports last month.
Weak performance in China has been a major reason for the frequent changes in Tesla's top leadership in China, analysts said.
Tesla only sold about 120 cars in China last month, Reuters reported Tuesday, citing sources close to Tesla. Musk threatened to fire or demote managers in an internal e-mail in late January, if they are "not on a clear path to positive long-term cash flow," the report said.
The US is currently the largest market for Tesla. In 2014, Tesla sold about 18,700 units of cars in the market, according to the Reuters report, citing consultancy data.
The company expects China to also become "one of the largest markets within a few years," and has set a sales target of selling 33,000 units of cars globally in 2014, according to its third-quarter financial reports.
Data from Shanghai-based industry consultancy LMC Automotive showed that around 2,500 units of Tesla's Model S have been registered for car plates in the mainland in 2014, with 1,588 Model S cars registered in the fourth quarter.
"The number is already fairly good, since the luxury electric car mainly targets limited consumers in China and most people still feel unsure about charging facilities," Zhu Bin, a senior analyst at LMC Automotive, told the Global Times on Wednesday.
Zhu noted that as Tesla only offers one single product in the Chinese market, it is unlikely the company will see continuous robust growth unless new models are introduced.
Tesla initially received widespread attention from media and consumers after it started pre-orders in August 2013 in China.
"But brand-building needs long-term efforts. It demands more than just a moment of passion before a brand could gain a strong foothold in a market," said Wu Shuocheng, an analyst at consultancy Menutor Consulting Shanghai Co.
"Tesla still needs to work on brand-building, distribution and its services in order to win more consumers in China," Wu told the Global Times on Wednesday.
Also, the direct sales mode of Tesla may have slowed its expansion in China, he said.
Tesla has established nine stores and service centers in six cities, including Beijing and Shanghai, Tesla told the Global Times in December.
"The Chinese management team of Tesla will be under great pressure," Wu said, given the high expectations Tesla has for China.
China's new-energy car sector is growing rapidly, but the competition is also heating up, with both domestic and foreign auto brands now starting to offer more new-energy options.
"Plug-in hybrids will see stronger growth in the next few years, as they are less demanding on charging facilities," Zhu said.
A total of 74,763 units of new-energy vehicles were sold in the Chinese market in 2014, more than triple the sales in 2013, data from the China Association of Automobile Manufacturers showed.