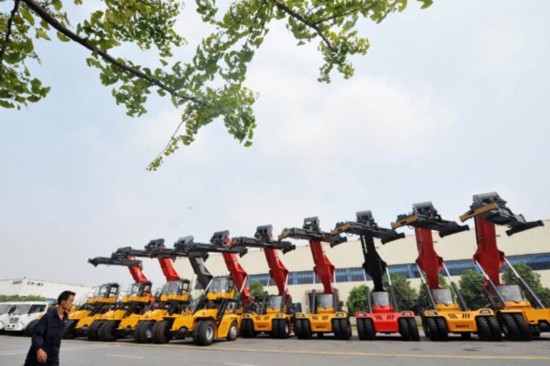 Reach stackers made by Sany Heavy Industry Co Ltd are ready for delivery at a plant in Changsha, Hunan province. A US court ruled in favor of Sany Group Co Ltd over President Barack Obama's order barring its wind-farm projects in Oregon. [Photo/Xinhua]
Analysts: Court decision helps Chinese firms facing national security issues
A United States court ruling in favor of China's Sany Group Co Ltd, which challenged a White House order, signals an early victory for the company and sets a precedent for other Chinese companies hoping to enter the US market, the company and analysts said.
The US Court of Appeals in Washington, DC, ruled on Tuesday that Ralls Corp, owned by machinery giant Sany, must be allowed to challenge evidence that US President Barack Obama drew on to bar its operations connected to wind-farm projects in Oregon.
"The presidential order deprived Ralls of significant property interests. This lack of process constitutes a clear constitutional violation," a unanimous ruling by the three-judge panel said.
The appeals judges, overturning a lower court, said Ralls' constitutional rights to due process were violated because it never had access to information the government used and was not able to address its specific concerns.
The ruling is a win for foreign companies that confront national security concerns raised by the Committee on Foreign Investment in the US, an interagency panel that reviews acquisitions of US businesses by non-US investors.
Ralls, an affiliated company of Sany, acquired four wind-farm projects near a US naval facility in Oregon in early 2012. Obama then signed an order blocking the deal, citing national security concerns.
Sany sued the White House in October that year, saying that it had "acted in an unlawful and unauthorized manner".
Xiang Wenbo, a board member of Sany Group and also president of Sany Heavy Industry Co Ltd, said in his personal blog on Wednesday that the ruling is "a great victory for Sany Group and related companies".
He expressed the hope that the company's legal rights will be safeguarded by justice.
Tim Tingkang Xia, an attorney for Ralls, said the company is "heartened that the court today (Tuesday) upheld Ralls' arguments in every respect".
Zhou Shijian, a senior trade scholar at Tsinghua University in Beijing, said the order signed by Obama was simply a campaign ploy meant to win votes by catering to China-hostile forces in the US.
"Definitely, they have no evidence to prove the wind farms will pose threats to US national security."
Zhou said the ruling does not guarantee Sany will win the case in the end, but it sets a good example for other Chinese companies to use the US judicial system to protect their interests.
The appeals court decision came as Lenovo Group Ltd, the world's largest maker of personal computers, is facing a CFIUS review over its proposed purchase of IBM Corp's low-end server business. Lenovo, based in Beijing, and IBM sought more time to complete the review following an initial investigation by the US committee, Bloomberg News reported in June.
Chinese investors were subject to more than double the number of CFIUS reviews in 2012 as in the previous year, overtaking the United Kingdom as the most scrutinized foreign buyers of US companies, the committee said in its annual report to Congress.