A deliveryman appeared at a press conference held by China's State Council Information Office (SCIO) on Feb. 23 to share his stories of epidemic prevention and control from the perspective of an ordinary working man.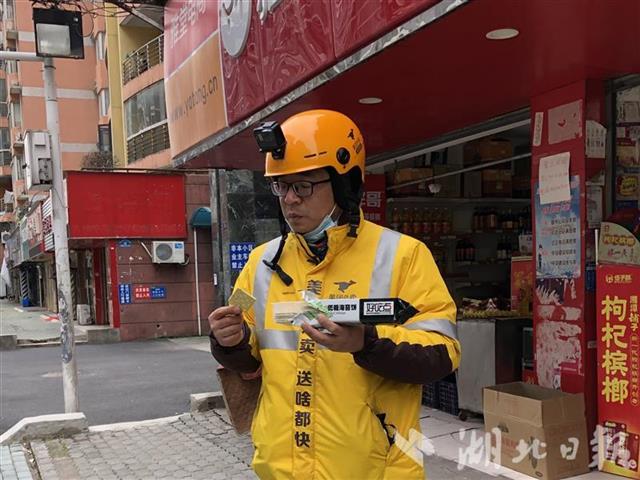 Wu Hui (Photo/Hubei Daily)
It was the first time a deliveryman had attended the SICO's press conference.
A police officer, a doctor, a nurse assisting in the epicenter Wuhan, and a teacher also participated in the 40-minute press conference held in Wuhan, capital of Hubei province.
The deliveryman, Wu Hui, explained that what prompted him to stay in Wuhan after the city was hit by the severe outbreak was his sympathy for the frontline medical staff, who could only have instant noodles for their meals.
Though the novel coronavirus has brought the entire city to a standstill, Wu decided to stay and serve as a "conveyor" to help keep the city running, delivering vegetables and drugs to people's doorsteps.
Wu was born in Shiyan, a prefectural-level city in Hubei province, in 1980. He became a deliveryman last July after working as a waiter and running small businesses in his hometown, Shenzhen, Guangzhou and Chongqing.
After the outbreak, Wu gained over 60,000 followers on Weibo, the Twitter-like social media platform, where he records his stories and shares his thoughts on the epidemic with people from across the country.
Wu said at the press conference that he once ran an errand for a doctor combating the virus on the frontline – to deliver a meal his wife had made him. Wu noted that it was an honor to serve such a family, as they are both ordinary and extraordinary at the same time.
SCIO spokesperson Qiu Yanchun said that deliverymen like Wu always appear on the streets, but receive little attention. However, they are making an important contribution to keeping cities running, she added.
Many people extended their gratitude to the busy deliverymen across the country on the internet. Wu responded by saying that every person must participate in the people's war against the epidemic to create a better life and to protect it. There are no "outsiders" or "on-lookers" in this battle, he said.
After the press conference, Wu once again went to a pharmacy to fetch drugs for customers. Speaking of his expectations, he said that he hopes life can get back to normal as soon as possible, and he can receive more orders to make more money.
Wu said he also hopes to visit his mother back in his hometown when the epidemic is over.