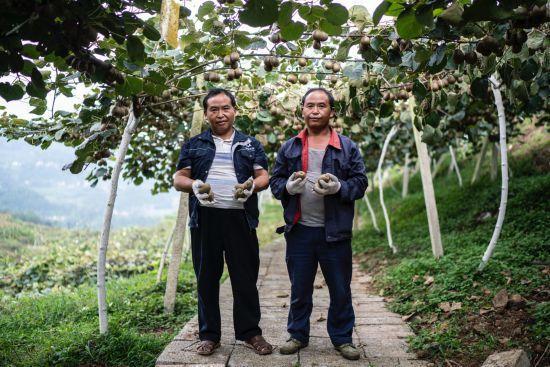 Twin farmers from Liupanshui in southwest China's Guizhou Province show their kiwifruits. (Photo/Global Times)
Chinese social e-commerce giant Pinduoduo received 110 million orders for produce during its 12-day online shopping festival to promote sales of agricultural products, the company announced on August 26.
Twenty thousand online store owners participated in the activity. People in megacities and new first-tier cities bought nearly 40 percent of agricultural products sold through the platform. South China's Guangdong province and east China's Zhejiang and Jiangsu provinces ranked top of the list, followed by Shanghai.
Known for offering group deals with big discounts, Pinduoduo has registered 483 million annual active users, according to the company's financial report issued on August 21.
During the shopping festival, produce from 500 agricultural production areas in China were sold on the platform at very affordable prices. As a result, many products sold out in a short time.
For example, consumers snapped up over 30,000 kiwifruits from Liupanshui in southwest China's Guizhou province in just seven minutes, and 25,000 kilograms of pomegranates from Huili in southwest China's Sichuan province were sold in seven hours.
The company has driven up sales of agricultural products across China. Its produce sales brought in 65.3 billion yuan in 2018.