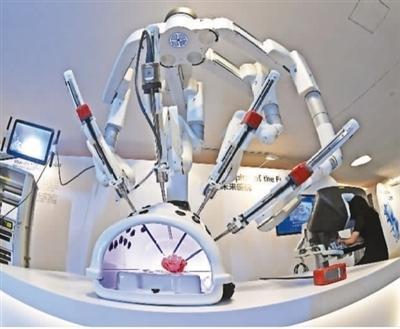 A robot surgeon is shown at an exhibition space of the 2019 Summer Davos in Dalian, northeast China's Liaoning province on July 1. Other cutting-edge technologies, such as a 5G mixed reality smart sandbox and biological recognition technology, were also exhibited. (Xinhua/Yang Qing)
Business leaders believe that China's economy will continue to grow, and the market will unleash great potential, after Chinese Premier Li Keqiang delivered a keynote address at the World Economic Forum's Summer Davos in Dalian on July 2.
Li's speech has boosted the confidence of foreign enterprises to seek further development in China, said many forum participants.
China has secured stable employment, steady commodity prices and better-than-expected foreign trade, said Zhang Jin, board chairman of Cedar Holdings Group. The country maintained relatively high economic growth compared with the rest of the world, despite having experienced a growth slowdown, Zhang pointed out.
According to statistics, China managed to keep surveyed urban unemployment within 5 percent in May. In the first five months, consumption contributed to over 60 percent of economic growth, and 2.9 million new business entities were registered.
"We're happy to see a stable Chinese economy, which gives us the confidence to up our stakes in the Chinese market," said Yin Zheng, executive vice president of French energy management and automation firm Schneider Electric.
The company's R&D spending in the Chinese market is expected to grow by 50 percent in the next three years, according to Yin, also president of Schneider Electric China.
Premier Li proposed multiple measures to deepen reform and expand opening up, which is a positive signal, Yin said, adding that his company is happy to see such efforts made by China in these aspects.
The measures have not only reduced burdens for enterprises but have also produced positive effects throughout the whole industrial chain, according to Yin.
China slashed 893 billion yuan ($130) in tax revenue from January to May, accelerating the annual target of 2 trillion yuan in reduced tax and fee burdens.
Kevin Sneader, the global managing partner of McKinsey & Company Inc., said as China's economy relies less on exports, the country's domestic market will play a more prominent role.