File Photo: Chinese Foreign Ministry Spokesperson Hua Chunying
Beijing said on Tuesday that Canadian Prime Minister Justin Trudeau's accusation that China "arbitrarily" sentenced a Canadian drug smuggler to death is irresponsible and lacks the spirit of the rule of law.
"We urge the Canadian side to respect China's judicial sovereignty, correct mistakes and stop making irresponsible remarks," Foreign Ministry spokeswoman Hua Chunying said at a daily news conference in Beijing.
Trudeau expressed "extreme concern" after Canadian national Robert Lloyd Schellenberg, convicted of smuggling over 222 kilograms of methamphetamine, was sentenced to death by a Chinese court on Monday. He said China has chosen to arbitrarily apply the death penalty.
"I'm wondering whether the relevant individual has carefully read the information released by the Dalian Intermediate People's Court on this case. And has he carefully learned about related Chinese laws?" Hua said.
A statement released on Monday by the court in Liaoning province said that Schellenberg, along with others, took part in organized international drug smuggling, which is a crime punishable by death in China. "The criminal facts presented by the prosecutors were clear, and the evidence was verified and sufficient," it said.
Schellenberg has decided to lodge an appeal, according to his lawyer.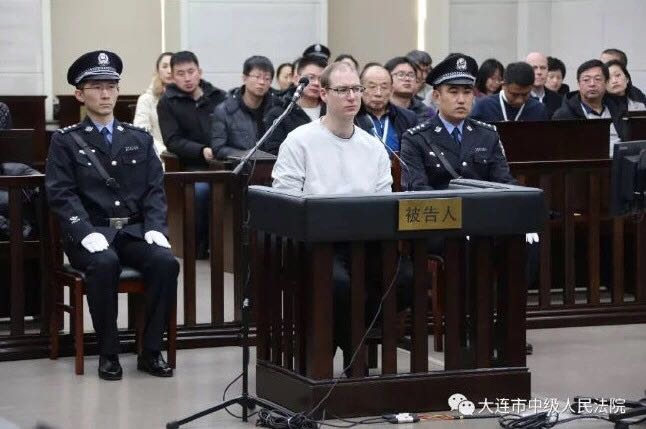 Robert Lloyd Schellenberg appears in court. [Photo from Intermediate People's Court of Dalian city]
Hua said that drug-related crimes are globally recognized as serious crimes that inflict tremendous harm on society, and every nation cracks down on them. "Any responsible government will take strong measures in the face of such a serious drug smuggling crime. This reflects the highly responsible attitude and resolute determination of a government protecting the lives and safety of the public."
In response to Canada's travel advisory, warning its citizens about "the risk of arbitrary enforcement of local laws" in China, Hua said Canadian citizens should be reminded never to engage in serious crimes such as drug smuggling in China. "Otherwise, there will be grave consequences."
Also on Tuesday, the Foreign Ministry and the Chinese embassy in Canada issued a Canada travel alert. It warned Chinese citizens to fully evaluate risks and exercise caution when traveling to the country, given Canada's recent "arbitrary detention" of a Chinese national at the request of another country.