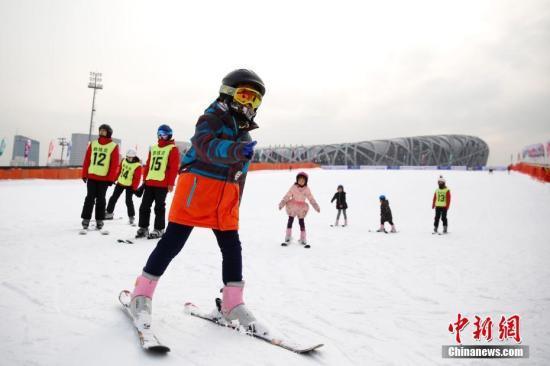 Chinese kids practicing skiing (Chinanews.com/Han Haidan)
A newly released national survey shows that 270 million people in China have now participated in winter sports, almost a quarter of the total Chinese population, Beijing Evening News reported on Nov. 20.
The survey on winter sports in China indicated that the five provinces and regions in the north of China - Heilongjiang, Jilin, Liaoning, Inner Mongolia and Xinjiang, were home to the highest number of snow-sports lovers, with over 50 percent of respondents saying that they are active participants of winter sports. By contrast, only two of ten respondents living in southern China said they took part.
The survey revealed that the majority of participants, no matter where they live in China, prefer to enjoy winter sports in parks or tourist destinations.
The survey, covering 334 cities in 31 provinces, municipals and autonomous regions on the Chinese mainland, was carried out by the National Survey Research Center at Renmin University of China, and released on Tuesday morning as a part of the opening ceremony of the 2018 winter sports cultural festival, one of the many activities to welcome the 2022 Winter Olympics in Beijing.