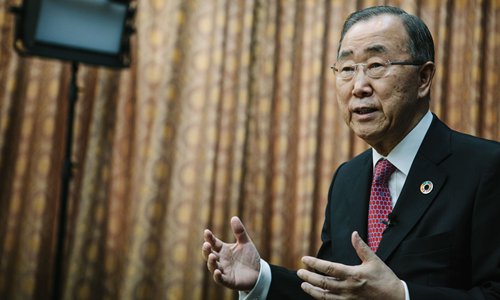 Photo courtesy of Li Hao
The dramatic changes in China after 40 years of reform and opening-up have been highly commended by former UN chief Ban Ki-moon in a recent interview with People's Daily Overseas Social Media, who also thinks highly of the ongoing China International Import Expo (#CIIE) in Shanghai.
"After 40 years of reform and opening-up, China has obtained a dramatic development in industrialization. As a fast-growing country, China continuously shows its determination on expanding opening to the market," Ban said in an exclusive interview with People's Daily Overseas Social Media in Beijing on Sunday.
Ban added that China's development path sets a pattern for developing countries.
As a fast changing country, economic and scientific development in China has grown by leaps and bounds thanks to 40 years of reform and opening-up. With a growth rate of 6.9 percent, China's GDP totaled $12.84 trillion in 2017, surpassing Britain, Germany, and Japan to achieve second place in the world; furthermore, per-capita disposable income of urban workers increased to $5,245 in 2017, an increase of 104 times compared to 1978 at the same time, rural per-capita net income rose to $1,935 from $20.
Earlier at this year's Boao Forum for Asia (BFA) in China's Hainan province, President Xi Jinping promised non-stop effort in reform and opening-up and commitment to an open economy, which, according to Ban, "is significant for domestic development as well as international community."
In addition, more than 700 million Chinese were lifted out of absolute poverty, accounting for 70 percent of global poverty reduction during the period.
"China feels a sense of responsibility for economic and scientific development as a whole, and is committed to prevent global warming as well as to assist other developing countries," Ban said.
China's tremendous achievements are the result of multilateral trade liberalization, which has been the major factor in bringing about global prosperity, peace, and stability since the end of World War II. With progress in technology and communication, the whole world is tightly connected and no country can be left alone, said the former UN chief, who currently works as the BFA chairman, stressed.
However, "rising nationalism in some Western countries seriously impedes this trend and isn't what we expect to see in the 21st century," Ban told reporters on the sidelines of the 2018 Future Consensus Forum in Beijing on Sunday. "I am deeply concerned about the current international trend that puts multilateralism under serious threats," he added.
"In the late 1930s, the US government legislated trade protections laws, and triggered economic crisis. We should learn from the history. I sincerely hope that the issue should be resolved through diplomatic negotiations," Ban said, regarding to the current trade frictions between China and the US.
Ban also emphasized that the UN will always be committed to maintaining and solidifying multilateralism and trade liberalization, and the organization hopes world leaders can address challenges through global solutions.
To resist the anti-globalization trend and to deepen China's integration with the global market, China is hosting the first China International Import Expo (CIIE), which shows the country's determination in expanding opening-up and in working with the international community on tough global issues, according to Ban.
"The Expo is a great occasion to stress the importance of free trade and liberalization of market, which should be learned by other countries," Ban told reporters.
Ban also highly appreciates China's efforts on the Belt and Road Initiative, which will not only benefit the people in the countries involved with the initiative but also build a community with a shared future for humanity.
China has endeavored to achieve the 2030 Agenda for Sustainable Development, which includes goals for poverty reduction, hunger elimination, healthy life, gender equality, and 17 other sustainable goals to provide a higher quality of life for the world.
At the 2018 Beijing Summit of the Forum on China-Africa Cooperation in September, for example, China pledged $60 billion financing for infrastructure construction, industrialization, and trade facilitation projects in Africa.
"China is doing on its own, and set examples for other countries. I highly commend it for its contribution to international community," Ban said.