China and Singapore concluded their negotiations for the upgrade of the China-Singapore Free Trade Agreement (CSFTA) on Monday.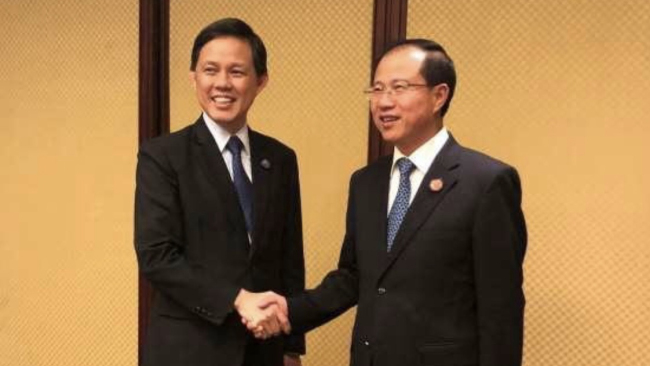 Chinese Vice Commerce Minister Fu Ziying(right) and Singapore's Minister for Trade and Industry Chan Chun Sing. [Photo:CGTN]
The announcement was jointly made by Chinese Vice Commerce Minister Fu Ziying and Singapore's Minister for Trade and Industry Chan Chun Sing after their meeting on the sidelines of the first China International Import Export in Shanghai.
The two countries will sign the upgrade protocol after performing related domestic procedures, said the Chinese Commerce Ministry in a statement.
Under the current CSFTA, all Chinese exports to Singapore enjoy zero tariffs, while 95 percent of Singapore's exports to China enjoy zero tariffs.
The upgraded CSFTA will further improve Singapore businesses' market access to China, and strengthen protection of their investment. It will also cover cooperation in new areas, including legal and financial services, e-commerce and the environment.
Chan said this development marks "an important step forward" for bilateral economic relations between Singapore and China.
"The upgrade signals our joint commitment towards greater economic collaboration and trade liberalization. Singapore businesses can expect to enjoy greater access to the vast Chinese market and greater certainty in their investments when the upgraded CSFTA takes effect," said Chan.
The CFSTA was China's first such agreement with an Asian country.
The current FTA between the two countries was signed into force in January 2009. And the talks to upgrade it started in 2015 when Chinese President Xi Jinping visited Singapore.
Economic relations between China and Singapore have been close. China has been Singapore's largest trading partner, while Singapore has been China's top foreign investor for five years in a row since 2013.