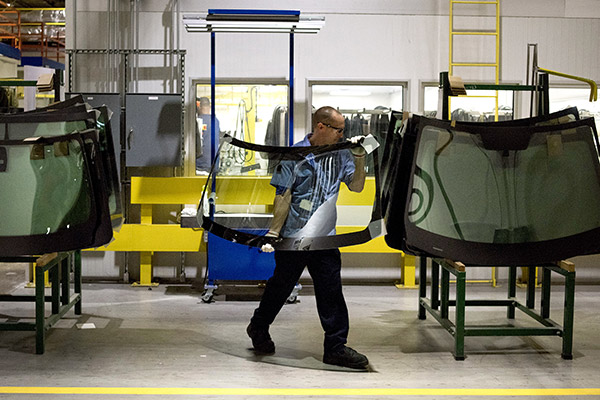 An employee carries a rear windshield at the Fuyao Glass America production facility in Moraine, Ohio, US. [Photo/Agencies]
Twenty-three-year-old Jason Harbut used to work at another factory. Unsatisfied about the long work hours, he quit the job and joined Fuyao Glass America (FGA) facility located in Moraine, Dayton of Ohio, in February 2016.
Starting as an hourly worker, Harbut followed Charles, a Chinese training teacher, to learn how to apply rings to auto front glass of different models. More than two years later, Harbut is now a chief in charge of an ARG (aftermarket auto glass) preassembly lamination line.
Talking of his advance from an hourly worker to a chief, Harbut told Xinhua: "When we learned it, we all just try to compete against each other. So we worked and I just worked on our speed and that's how I ended up catching against fastened."
In FGA Moraine facility's Ring Room, whenever an auto front glass of a specific specification came out on the preassembly Lamination line, Harbut would expertly select a matching rubber ring, apply it to the glass edge and then carry the finished piece of glass to another production line. The whole process took only 13 seconds.
Harbut is not the only one who earned his promotion in FGA through hard work. 47-year-old Darren Noble joined FGA Moraine facility as an unloader in January of 2016. In about two years, he was promoted to be ARG Assembly Department Manager.
Noble still remembered his Chinese supervisor's words: If you are willing to work hard and do the job, if you're ambitious, if you want to go far, Fuyao has almost endless opportunities. "I took him at his word. I decided to do exactly what he said."
Noble told Xinhua that he was just one of the many people that have demonstrated a good work ethic, a positive attitude, a willingness to continually learn, never stop learning, never stopped growing at Fuyao. "Those people are succeeding here because that's the culture from the chairman all the way down. There's this constant support for learning and growth and reward of good performance. It's a very, very supportive culture for growth and learning."
In 2014, Fuyao bought a former General Motors (GM) facility that was closed in the 2008 Financial Crisis in Moraine, Dayton, for $15 million, and turned it into a two-million-square-feet glass manufacturing plant. The plant started operation in 2015, and now employs more than 2,100 workers. It is the third largest manufacturer and one of the top employers in the Greater Dayton region.
And the plant is still expanding as orders keep pouring in, with the number of employees expected to increase in near future.
Being a local resident in Dayton, 48-year-old James Reid used to work in the GM facility. He joined FGA in January 2015.
Talking of the differences of his work in GM and in FGA, Reid said: "A lot of skilled trades are involved in this one." "We've given a lot of opportunities. People can move up and learn their skill, improve in a different environment."
Reid used to be a production associate on an assembly production line in GM. "I started out same position on the line in FGA, and then moved up to team leader and then I'm a supervisor, assistant manager and manager." Reid is now FGA Moraine facility lamination manager for the Original Equipment Manufacture (OEM) windshield line, overseeing about 200 people that make windshields.
"(This is) my favorite job I've ever had here. I really, really enjoyed it," Reid said. Reid told Xinhua that he was on FGA Moraine facility's first employment list, and has witnessed the plant's whole evolution from "an open factory that is dark, dirty and had not an equipment in it all the way to what we have now: a state of the art, clean, well-lit factory."
Fuyao is the largest single auto glass manufacturer in the world. It has invested about one billion dollars in the United States, and FGA is a flagship plant in its overseas strategy, FGA President Jeff Liu told Xinhua.
"Fuyao's business in US is growing steadily." Liu estimates that the sales revenue of the company will reach $460 million, and the profit $20 million to $26 million this year.
"We still have a huge market space," he said.
Liu believed that all people in a company form an interactive chain: the management understands and addresses the need of workers; the workers manufacture the best products to meet customers' needs; the customers place orders for the best products; and the company makes profit to take care of the welfare of the workers. "We are a whole team."
It is a common practice in FGA for the management to go into the grassroots once a month, informing workers of the company's plan in the next step and addressing workers' problems.
FGA is actively merging into the local communities. It has established the FGA Hardship Fund to help workers in need. Meanwhile, with assistance of Heren Charitable Foundation launched by Fuyao Chairman Cao Dewang in 2017, FGA has actively participated in community activities, interacted with local residents, and donated to local hospital, public service, public school and local disaster relief organizations.
"We want local residents know what kind of company FGA is," Liu said. "We are not only a Chinese company, but also an international company, which is deeply rooted in local community."
"Respect and trust are earned," Liu said. When one is respected and trusted, fosters gratefulness to everything around, and knows how to compromise, he will be successful.
Local workers' commitment to FGA echoed Liu's words.
"I was ready to commit myself for the last 25 years of my working career to FGA," said Noble.
"What the satisfaction for me is creating something. So even almost three years into this thing, we're still developing, we're still growing."
"It is teamwork that makes my success possible. Without the support and encouragement from the Chinese Team, I would not be in this position. Without the support of the American Team, we would not be growing, as we are," he added.
"Seeing how we're growing and knowing that the potential is limitless. That's very satisfying," Noble reiterated.
On an assembly line, a veteran worker is showing eight local residents surrounding him how to install accessories to a piece of auto front glass. They are ready to seek growth opportunities here.