Chen Wei, a 48-year-old puffer fish breeder in Taizhou, Jiangsu Province, introduced 70,000 juvenile puffer fish into the Yangtze River in an effort to reduce the decline in the species, according to a report in thepaper.cn on Thursday.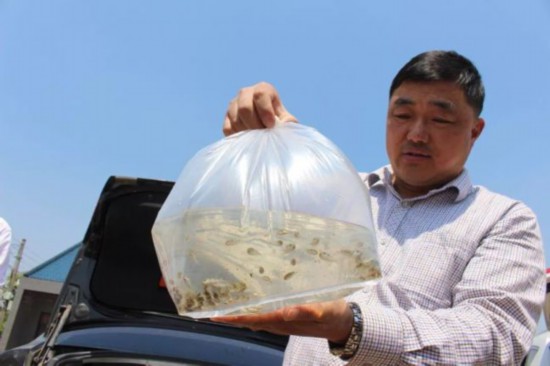 Chen Wei put 70,000 juvenile puffer fish that he bought for 1 yuan each into the Yangtze River. [Photo: thepaper.cn]
Chen, who bought the fish at 4 a.m. the same day for 1 yuan each, said he remembers seeing many puffer fish in the river when he visited it with his grandfather when he was young. But over the years, the number of puffer fish in the water has fallen sharply.
Chen Wei said that he plans to put another 30,000 of the fish in the river later this year. "I was bought up on the Yangtze River, and now it's my turn to give something back. I want the mother river to be full of life forever," he said.