UK to gain foothold in Xiongan with a financial technology hub following May's China visit
08:49, February 07, 2018 Global Times
Chinese scholar urges UK to bring superior tech, high value-added programs to Xiongan
○ Beijing's brainchild, Xiongan New Area, sees Sino-UK partnership
○ Sino-British projects are expected to thrive in post-Brexitera
○ As Trump's America first strategy pushes England away, China embraces British cooperation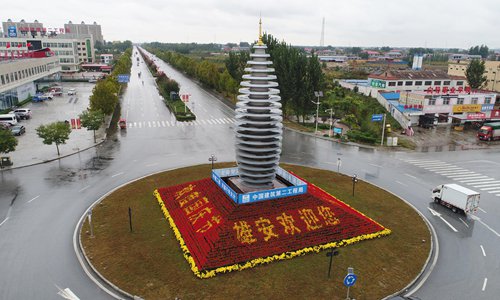 A sculpture in Xiongan, Hebei Province. Photo: VCG
UK Prime Minister Theresa May recently completed her three-day visit to China with large business deals and mixed reactions from the East and West.
She unexpectedly announced plans to co-fund a technology center in China, but shied away from officially endorsing the Belt and Roadinitiative.
Among the many deals that were finalized during her trip, arguably the most notable was that China and the UK will jointly set up a new financial technology hub in Xiongan New Area in Hebei Province.
Established in 2017, Xiongan New Area, about 100 kilometers from Beijing, was selected by China's leadership to serve as a center for Beijing's "non-capital functions." It is described as "a strategy crucial for the millennium to come."
In February of 2017, Chinese President Xi Jinping called for a "world vision, international standards, Chinese characteristics and high goals" in the planning and construction of Xiongan New Area, Xinhua reported.
Zhao Junjie, a research fellow at the Institute of European Studies at the Chinese Academy of Social Sciences, told the Global Times that it was "wise" for the UK to choose Xiongan as a "foothold" to deepen Sino-British cooperation, as there is enough room for all in Xiongan.
Participating in a Sino-British finance and technology relationship with Xiongan may help Britain curry favor with the Chinese government in a post-Brexit era, which is exactly when the UK will desperately need to develop new partnerships with strong economies outside of Europe.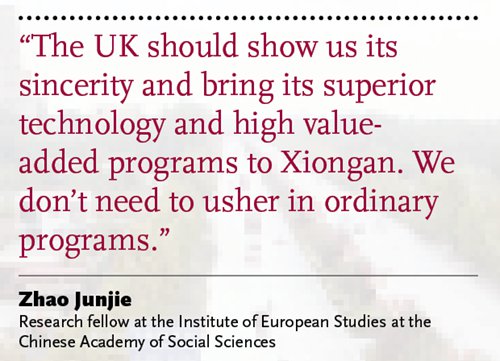 Post-Brexit blues
May brought with her to China a delegation of 50 business executives, the largest that her government has ever taken overseas.
But experts point out that while the UK government remains "pragmatic," pressure from its Western allies and a complicated domestic political situation may overshadow bilateral relationships with China.
May said at the China-UK Business Forum in Shanghai that "The UK is preparing to leave the European Union. We're seizing the opportunity to become an ever-more outward-looking Global Britain, deepening our trade relations with nations around the world - including China."
The UK's domestic situation has been gloomy at best following the Brexit vote. The Financial Times reported that the outcome of the referendum on EU membership in June of 2016 has had a "depressive effect" on the UK, which is likely to continue into 2018 and thereafter.
Zhao said that China and the UK complement each other's economies and that China will become a strong partner to help Britain out of its post-Brexit economic problems. "Now the UK has a higher demand from us than what we want from them," he said.
"The UK should show us its sincerity and bring its superior technology and high value-added programs to Xiongan. We don't need to usher in ordinary programs," he said.
"Britain should make best use of its advantages in technology, innovation and finance in Xiongan and convert them into money and real benefits for its country," he added.
Zhang Jianping, a research fellow with a center under the Ministry of Commerce, told the Beijing Business Today that the China-UK financial technology hub is the only large-scale cooperation program in Xiongan that has been achieved during recent foreign leaders' visits to China.
Zhao said that Britain should use its financial position to bring investment from other countries to China and introduce its advanced programs, including eco-cities, green energy and agriculture, to Xiongan as well as encourage more European talents to work here.
He noted that, during this process, the British government ought to change their old mindset of "not intervening in company operations" but rather pave the way for them to come to Xiongan.
"For instance, the UK government can give its small- and medium-sized companies some preferential policies to attract them to invest in Xiongan. Also, it can learn from the German government by setting up services centers in China to help these companies," he said.
Shrug off the chill
According to the Bank of China website, the bank has signed a strategic partnership with British property company Canary Wharf Group and Xiongan Construction Investment Group. The parties will work together to build an "international-standard" financial technology center. Canary Wharf Group transformed Docklands into a world-leading international hub in London.
An opinion piece published on Xiakedao, a popular WeChat account supervised by the People's Daily, said that, despite the fact that May was the very first foreign leader that Trump met with after taking office and that the US views Britain as a "natural ally," Trump's advocacy of an "America first" strategy is causing the once-strong UK-US relationship to become fragile.
Meanwhile, as May wrote in the Financial Times, China "is creating new markets for a vast range of products, from milk to motorcycles to the latest innovative technology" for the UK.
Chinese people too have noticed May's attempt to please China, including wearing red clothes and scarf during her visit. On her Sina Weibo account "UK Prime Minister," May made nine posts in Chinese with photos or videos about her three-day visit.
One post, which received 22,000 comments, was of photos showing May, wearing a red scarf, and her husband touring the Palace Museum in Beijing. Netizens expressed their concern that she "was cold" and urged her to "put on more clothes to shrug off the chill."
Qu Bing, an associate professor at the Institute of European Studies, China Institutes of Contemporary International Relations, said that May's trip met her expectations. Speaking in Shanghai, May confirmed this by saying that the past few days in China had been "fascinating and productive."
Its own pride
Some Western media outlets were upset that May had failed to keep her pledge to discuss the Hong Kong situation and human rights issues while in China.
"The UK government is pragmatic. They won't sacrifice the real benefits only to talk about human rights," said Zhao. "It's understandable that the British government is facing such pressure from its people to emphasize its values and is forced to state its position. But this is meaningless, and the government should be more down-to-earth."
"China has a different situation from Western countries. What we hold is a way of Chinese characteristics. Their values don't fit in our country," Zhao added.
While China has high expectations for the Belt and Road (B&R) initiative, May did not sign a memorandum of understanding or a formal endorsement of the initiative. Qu noted to the Global Times this may have been because she is "suffering pressure from UK's allies, including the US, who don't want her to actively join the B&R."
Despite China's rising influence in the UK, Britain still considers the US its most important partner. "It will find a balance," he said.
Zhao said May's government is "weak" and that, in the Western political world where populists now reign, the B&R initiative is still a sensitive subject.
The UK is an old capitalist country and has its own pride, which holds it back from giving an immediate response to China's initiative as some other small countries have, he added.
"But in the future, both sides will cooperate in this," he said.
Qu said that, after Brexit there will be a long period of uncertainty in the UK's many bilateral relationships.
"There will be many changes in Britain's policy and overall environment after Brexit. We need to wait to see what kind of effects it will have to decide what kind of future cooperation we should have," he said.
Zhao is more optimistic about Brexit, which he said will bring more opportunities to the UK and to China. "Now the two countries' cooperation still has many restraints under the larger EU framework. But after Brexit, there will be more flexibility for both sides to negotiate and cooperate."