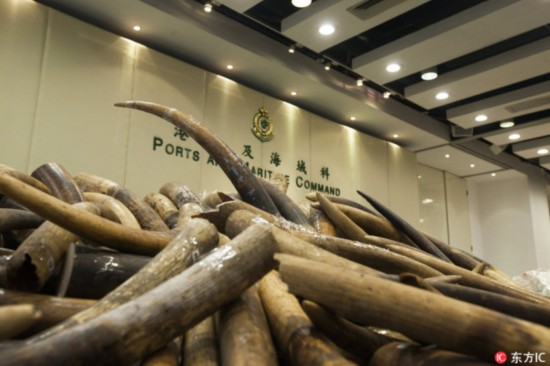 7,200 kilograms of seized ivory were displayed at a customs compound in Hong Kong, July 6, 2017. [Photo: www.dfic.cn]
The world's leading conservation organization World Wildlife Fund (WWF) has applauded China's ban on ivory sales.
WWF said in a statement that with the doors to the ivory trade closed in China, the world starts 2018 a step closer to a land free of the slaughter of endangered animals.
China's ivory ban took effect on Sunday.
"China's actions, more than those of any other country, can reverse the trend of elephant poaching and illegal ivory trafficking, and have a significant impact on the future survival of African elephants," WWF said.
A recent WWF survey shows that the ban has widespread support from most consumers asked. The organization suggests the ban is likely to substantially reduce ivory purchase.
Dr. Fred Kwame Kumah, Director of WWF Regional Office for Africa, commented that "China has shown great leadership on this urgent issue".
"This ban means we start 2018 a step closer to a world where the demand for ivory is extinct not elephants," Kumah said.
China's State Forestry Administration says by fulfilling its commitment to ending processing and sales of ivory by the end of 2017, China has sent a new-year gift to elephants.
China's official data show that the move will affect 34 ivory processors and 143 trading venues. All of them are set to be closed.
John E. Scanlon, Secretary General of the Convention on International Trade in Endangered Species of Wild Fauna and Flora (CITES), has also praised China's latest move, noting there is certainly reason for hope.
"The world still needs to do more to tackle both supply and demand to put an end to the poaching of elephant and trafficking in ivory," he said.