Shuffling comes into sharp focus
08:27, December 21, 2017 China Daily
Outline shows industries moving from capital and where they'll go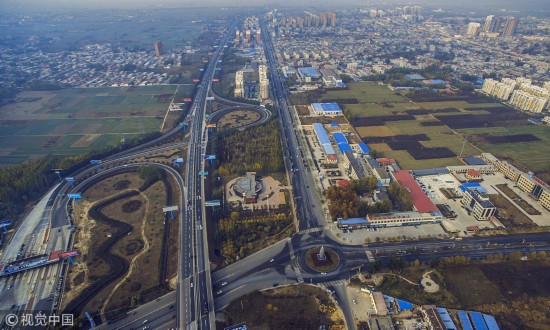 An aerial photo taken on Oct 26 shows Rongcheng county of the Xiongan New Area. [Photo/VCG]
An outline released on Wednesday on the integrated development of the Beijing-Tianjin-Hebei region has offered further details on how the capital's resources and industries will be redistributed.
The ultimate goal is to move noncapital functions away from downtown Beijing, which will aid efforts to control population growth.
According to the outline, Tongzhou district and the Xiongan New Area, which covers three counties in Hebei province, are two key destinations for the relocated resources.
Municipal administrative offices will be moved to Tongzhou, which also will develop commercial services, tourism and technology innovation as major industries, according to Liu Bozheng, deputy head of the Beijing Development and Reform Commission, the city's economic planner.
Xiongan will develop mainly high-tech and innovative industries, he said. "The aim is to attract innovative resources to create industrial clusters and create a work-life balance for the population."
The outline, released by the Beijing-Tianjin-Hebei Integrated Development Office, also clarifies the functions of four strategic areas: the Caofeidian Integrated Development Zone in Hebei, the Beijing New Airport Economic Zone, Tianjin Binhai New Area and the Zhangjiakou-Chengde Ecological Area, also in Hebei.
Steel processing and petrochemicals will move to Caofeidian, a major port in northern China; aviation logistics and high-tech industries will move to the new airport economic zone; and financial services, digital centers and technology companies will head to the Binhai New Area.
Zhangjiakou, co-host with Beijing of the 2022 Winter Olympics, will develop sports, culture, tourism and exhibition services, the outline added.
In addition to the two key places and four strategic areas, the outline also indicates that the Beijing, Tianjin and Hebei governments will work together to develop 46 industrial regions-15 for innovation, 20 for modern manufacturing, eight for services and three for agriculture industries.
Supportive policies in terms of finance, land supply and environmental protection will be offered to help develop these regions. For instance, Tianjin has been working on favorable policies to attract technology companies from Beijing.
Bai Xiangdong, a senior official with the Tianjin branch of the Beijing-Tianjin-Hebei Integrated Development Office, said several State-owned companies such as Sinomec Group, an energy service provider, have signed contracts to relocate regional headquarters to Tianjin. Some private companies such as Mobike and Didi Chuxing also have signed on to locate their business units in Tianjin's Binhai New Area.
The aim of Beijing-Tianjin-Hebei Integrated Development is to realize coordinated development of the region, better protect the environment and make Beijing a livable and harmonious capital.
The development plan of Beijing (2016-35) released earlier this year caps the capital's population at 23 million and calls for more green space.