Routes, stops of intercity line linking Beijing-Xiongan revealed
10:58, December 14, 2017 Chinadaily.com.cn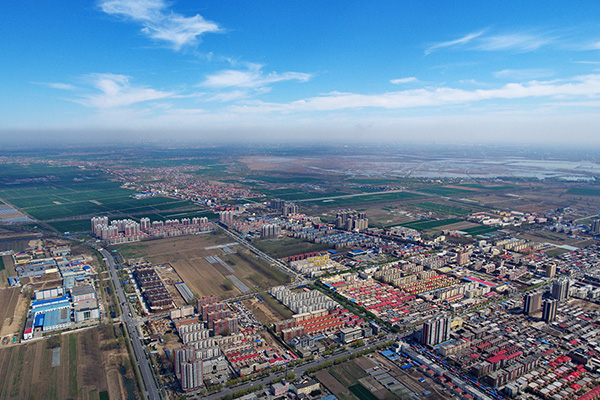 Aerial photo taken on April 1, 2017 shows Anxin county, North China's Hebei province.[Photo/Xinhua]
An intercity line linking Beijing and Xiongan will stop at 5 stations, according to its environmental impact report released by China Railway Design Corporation on Tuesday. And the report also indicated that at least 4 high-speed or intercity railway lines will pass through the New Area.
The railway lines include Beijing-Xiongan intercity line, and intercity line between Shijiazhuang, capital city of North China's Hebei province, and Xiongan, which were also mentioned in a document issued by China Railway Economic and Planning Research Institute in November.
It is the first time that routes and stops of the Beijing-Xiongan intercity line have been revealed. The 92.783-kilometer line was redesigned based on the intercity line connecting Beijing and Bazhou in Hebei.
The revised line planned to have 5 stops instead of the original 4 and changed its terminus from Bazhou station to Xiongan station by passing through Bazhou North station.
Three railway stations in Hebei - Gu'an East station, Bazhou North station and Xiongan station - are new added stations, built on 22.32 hectares (223,200 square meters), 12.96 hectares, and 68.37 hectares respectively, the report said.
As Beijing Daily reported, the floor area of Xiongan station is the equivalent of 96 football stadium.
And the other two stations are Huangcun Railway Station in Beijing Daxing district and station of Beijing's new international airport, currently known as Beijing Daxing International Airport, expected to begin operations in 2019.
In April, China announced plans to establish the new economic zone about 100 kilometers southwest of Beijing. It covers Hebei's Xiongxian, Rongcheng and Anxin counties.
The project aims to relieve the pressure of population on Beijing and build another economic powerhouse along the lines of those built near Shenzhen and Shanghai.