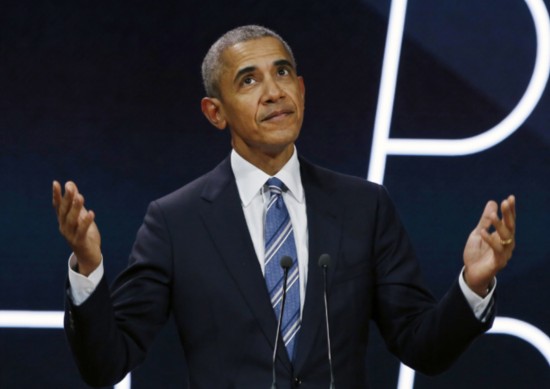 Former U.S. President Barack Obama arrives on stage prior to delivering a speech in Paris on December 2, 2017. Obama are among the most retweeted tweets of the year. Twitter released its top trending people and subjects ranging from the arts, to politics, to Korean boy bands on December 5, 2017. [Photo: AP/ Thibault Camus]
Three of former U.S. President Barack Obama's tweets were among Twitter's list of 10 most retweeted this year, while none of current U.S. President Donald Trump's tweets made the list.
An Obama tweet, published in August after racial violence rocked Charlottesville, Virginia was the second most-shared this year, according to Twitter on Tuesday, with more than 1.7 million retweets. It was also the "most liked" tweet of the year, with 4.59 million likes.
In the tweet, Obama quoted Nelson Mandela, "No one is born hating another person because of the color of his skin or his background or his religion..." He also posted a picture of himself looking at a racially diverse group of children.
The other two tweets from Obama that made the list were posted when he was leaving the office.
In one tweet that was posted on Jan. 10, Obama wrote, "Thank you for everything. My last ask is the same as my first. I'm asking you to believe-not in my ability to create change, but in yours."
The other tweet was published on the Inauguration Day, and Obama said, "It's been the honor of my life to serve you. You made me a better leader and a better man."
The most retweeted post this year goes to one of Carter Wilkerson's tweets. The man got 3.6 million retweets for a post asking people to help him receiving free chicken nuggets for a year from fast food chain Wendy's.
The tweet goes, "HELP ME PLEASE. A MAN NEEDS HIS NUGGS." Wilkerson fell short of the 18-million retweets target Wendy's set for him but he got his nuggets anyway from the fast food chain for the efforts he made.
The list also reminded the world the hardships people across the globe have endured.
Pennsylvania State University Interfraternity Council pledged to donate 0.15 U.S. dollars for every retweet it got to help those affected by Hurricane in August.
Pop singer Ariana Grande tweeted hours after a suicide bombing attack at the end of her concert in Manchester, England in May. Grande said in her tweet that she was broken from bottom of her heart and that she was so sorry and didn't have words.
Both tweets were among the top five retweeted posts this year.
While none of Trump's tweets made the top retweeted list this year, he was the most tweeted about elected world leaders, followed by Indian Prime Minister Narendra Modi and Venezuelan President Nicolas Maduro.