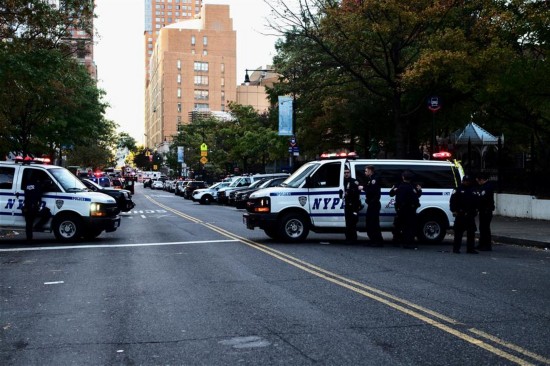 Police officers stand guard near the site of an attack in lower Manhattan in New York, the United States, on Oct. 31, 2017. New York City Mayor Bill de Blasio called on Tuesday a truck attack near the World Trade Center "an act of terror," in which eight people were killed and a dozen more injured. (Xinhua/Li Muzi)
NEW YORK, Oct. 31 (Xinhua) -- Eight people were killed and a dozen more injured after a truck plowed into pedestrians near the World Trade Center in New York City, the mayor said on Tuesday.
Based on the information authorities had at the moment, the incident was "a particularly cowardly act of terror aimed at innocent civilians," Mayor Bill de Blasio said at a press conference.
Speaking at the conference alongside with the mayor, New York City Police Commissioner James O' Neil said the suspect was a 29-year-old man who was not from New York. He said authorities would not release his identity immediately.
At 3:05 p.m., a male driving a rented Home Depot pickup truck entered the West Side Highway bicycle path at Houston Street, according to O' Neil. He said the man began driving southbound, striking a number of pedestrians and bicyclists along the route.
At Chambers Street, the truck collided with a school bus, injuring two adults and two children, according to the police.
After the collision, the driver exited the vehicle, holding up a paintball gun and a pellet gun. He was shot by a uniformed police officer and was then sent to a hospital.
The attack occurred hours before an annual Halloween parade was to take place in Lower Manhattan, which would be packed with thousands of people in costumes.
【1】
【2】
【3】
【4】