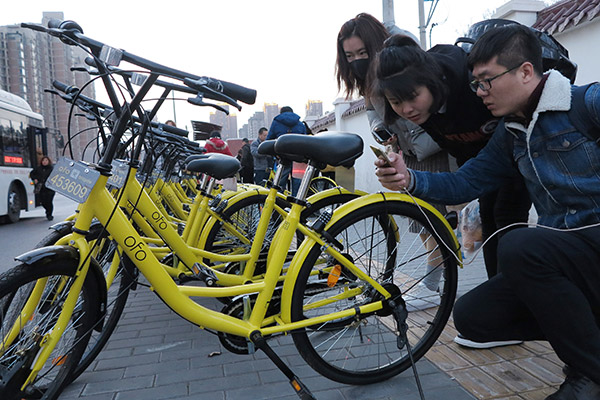 Riders scan ofo bikes in Xi'an, Shaanxi province. The bike-hire startup is experimenting with a deposit waiver system for users in Shanghai and may extend the service to other cities in the country. [Photo/China Daily]
CHINESE BIKE-SHARING COMPANY OFO is running a trial to exempt users from paying a deposit in Shanghai, a move that will likely intensify the competition in the sector. Beijing News commented on Monday:
Teaming up with Sesame Credit, a credit rating agency that is part of the Ant Financial Services Group owned by commerce giant Alibaba, Ofo is allowing users in Shanghai that have a credit score of 650 or higher to use its bike-hire service without paying the 99 yuan ($14.4) deposit.
Since the rise of the station-less bike-sharing services last year, governments at all levels have sought to jump on the bandwagon by doubling their financial support to the promotion of bike-sharing.
But are the service providers too big to fail and will they survive the coming challenges?
Not necessarily.
In fact, bike-hire operators aspiring to solve the "last-mile" dilemma for urban commuters have made limited progress in handling the existing problems. First is the insufficient parking space for the pay-as-you-go bikes. Previous urban planning did not anticipate the emergence of sharing bikes, many of which are improperly parked, and how fast they have become part of urban life.
Yet despite the popularity of the bike-sharing services, most of the vehicles on the streets are still cars, and exclusive bike lanes are scarce. Before urban planning becomes more cyclist-friendly, the bike-sharing services are not likely to advance much further.
Their profitability is also questionable. The maintenance costs alone can be unbearably high, and most service apps are offering near-free deals to customers at the expense of keen, deep-pocketed investors.
Some argue that advertising revenue and the increasing number of users cover much of the costs, but the colossal failures of some less financially capable operators sound a cautionary note. And making profits is not the top priority of some bike-sharing platforms, which are instead just a stake in the game of capital.
If that is really the case, bike-hire services might be marginalized piece by piece, because there will be a risk that speculative investors and operators simply want a convenient financing platform, not a life-changing innovation for the public well-being.