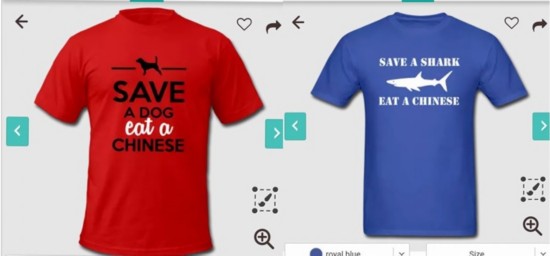 Two T-shirts that are removed from the website due to racism allegations
The Chinese Embassy in Berlin has demanded a German online retailer stop selling a series of T-shirts with slogans deemed to be offensive to China.
T-shirts from the German retailer Spreadshirt.de reportedly were printed with slogans, such as "Save a dog, Eat a Chinese" and ''Save a shark, Eat a Chinese", which the embassy described as insulting to China.
According to an online statement, the embassy has demanded the German company remove associated products, and offer appropriate explanations and an apology.
The embassy also reportedly issued a complaint to the German government and demanded the German side tighten regulations to avoid the risk of hurting the feelings of the people's of the two countries.
Wildlife protection has been high on China's agenda, with its latest big move, a ban on ivory trade and products issued in December last year.
A newly-revised wildlife protection law, featuring stricter regulations, also came into effect at the beginning of this year.