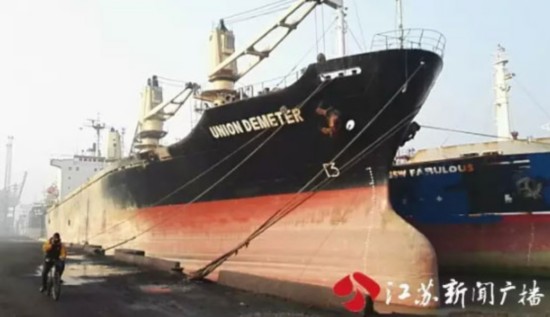 The "Union Demeter" detained at India's Haldia port [Photo: Jiangsu News Radio]
A cargo ship from Jiangsu province with 23 Chinese crew members on board has been detained at India's Haldia port for more than a month.
The ship set off from Nantong, east China in July last year, unloaded at Haldia port in December, and has been detained since then.
The freighter "Union Demeter" is owned by Nanjing Tranvast Holdings Limited and all crew members are from Nanjing Yuanteng shipping company.
Captain Dai Xiaosong contacted Jiangsu News Radio and asked for help.
Sailors are holding banners reading "We need help," and "We want to go home." [Photo: Jiangsu News Radio]
Dai said other boats owned by Tranvast didn't pay refuelling expenses, thus the "Union Demeter" was detained by order of a court in Bombay. In the same month when "Union Demeter" unloaded, the ship owner declared bankruptcy.
Sailors said they haven't been paid for five months and the total unpaid wages reached 1.5 million yuan, or 218,000 US dollars.
If there is no other company to take over the cargo ship, the Indian government will not release the crew, said captain Dai.
The stored food, drinking water and fuel on board are nearly used up, said the sailors, and the area they are trapped in has a high risk for dengue fever.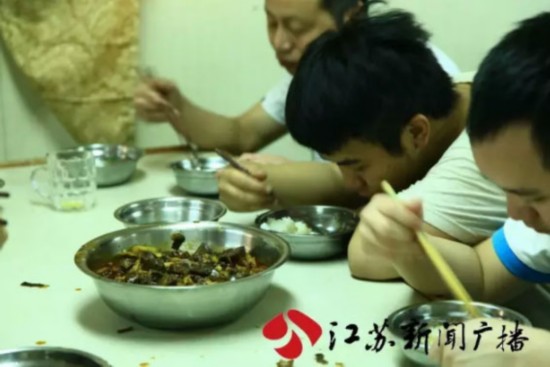 Sailors are having dinner on board. Their food supply is nearly used up. [Photo: Jiangsu News Radio]
Manager Han Lei from the Yuanteng shipping company said they have asked agencies in India to supply necessities to the crew. He said the best solution is that the ship owner pays for the release of the crew and the berth, and then sells the ship to solve their financial problem.
But the ship owner refused to contact the employer of the crew to talk about the issue, said Han, and the cost of berthing the ship at the port has been in the tens of thousands of dollars daily.
If the ship owner still refuses to solve the problem, added Han, each sailor has an insurance based on Maritime Labour Convention, and the insurance company will pay the sailors and take over the ship. But such a process will take a long time.