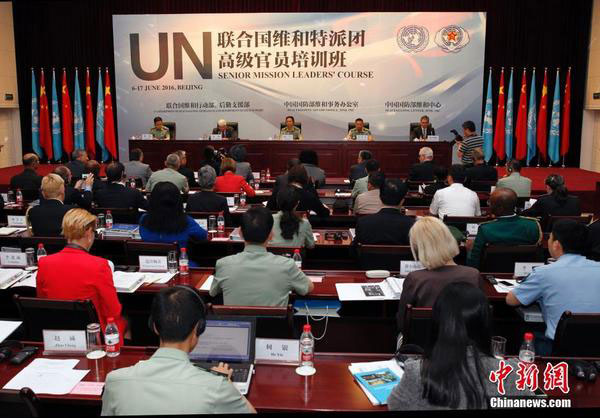 A training course for officers of the UN peacekeeping forces is held in Beijing on Monday, June 6, 2016. [Photo: Chinanews.com]
A training course for officers of the UN peacekeeping forces is being held in China for the first time.
It was jointly launched by the UN peacekeeping department and China's Ministry of National Defense.
26 senior peacekeeping experts from 17 countries are set to give lectures to peacekeeping commanders and soldiers.
Nan Ning, an official responsible for peacekeeping from China's Ministry of Defense, explains the course's significance, "The course shows Chinese army's willingness to fulfill its international obligations and undertake the mission of promoting peace and stability, and also marks a higher level of cooperation between China and the UN on the area of peacekeeping training."
Herve Ladsous, the UN under-secretary-general for peacekeeping operations, said China has made remarkable contributions to peacekeeping operations around the world, "Not only has China become one of the very large police and troop contributing country, number 8 currently, but (ranked) the first one amongst the permanent members of the (UN) Security Council, and only recently it has become the second largest contributor to peacekeeping financially. I think China consistently provides us with critical capabilities and expresses in the loudest terms the commitment of this country to contribute to peace and security."
During the course's opening ceremony on Monday, trainees also stood in silent tribute to soldiers killed in past peacekeeping missions.
The training will last until June 17, covering 23 subjects.
China has taken part in over 24 UN peacekeeping missions in the past 26 years, and over 31 thousand Chinese soldiers have served in such operations.