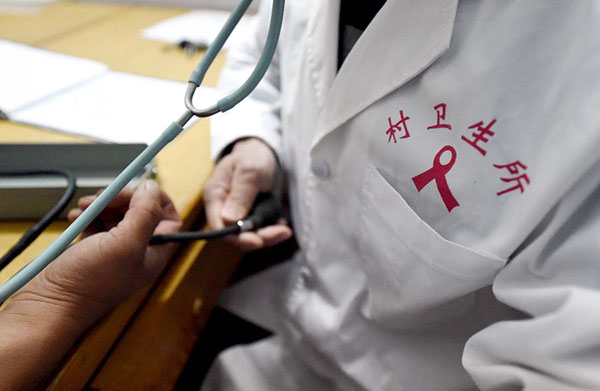 An HIV positive patient, not pictured, receives a blood pressure test in Weishi county, Central China's Henan province in this Nov 30, 2015 file photo. [Photo/Xinhua]
China is to make HIV self-testing kits more widely available in an attempt to diagnose as many people as possible and provide them with timely treatment.
The development was disclosed by the nation's leading AIDS specialist in an exclusive interview with China Daily.
Wu Zunyou said all possible outlets, from online shopping platforms to brick-and-mortar drugstores, would be approached in the initiative, which is scheduled to begin soon, although no starting date has been released.
Despite policy restraints, "we will pilot and then promote HIV self-testing by making the kits easily accessible", said Wu, head of the National Center for AIDS and Sexually Transmitted Disease Control and Prevention.
"Current screening practices appear to have lost momentum in detecting patients."
China's health authorities have long urged the public to seek free HIV screening at the 2,000 government-operated voluntary counseling and testing clinics nationwide.
However, many people are reluctant to be tested, fearing their HIV status will be confirmed and become widely known, which could result in discrimination.
While the number of HIV tests performed rose by more than 400 percent between 2007 and last year, the detection rate fell by about 50 percent, according to Wu, citing data from the Nationwide Epidemic Surveillance Network.
Last year, more than 100 million tests were carried out, mainly in government-run outlets, such as voluntary counseling and testing clinics and public hospitals.
Wu hopes the greater anonymity offered by the new outlets will encourage more people to be tested.
"Self-testing could provide a solution and reach out to those under the radar, helping to link them to care, such as counseling and treatment," he said.
A recent sales report by online medical provider Ali-Health, a subsidiary of e-commerce giant Alibaba, showed a substantial rise in sales of HIV self-testing kits that use oral swabs to collect saliva, particularly among men age 20 to 29. Kit prices range from 30 yuan to 200 yuan ($4.60 to $31).
However, the initiative could prove controversial, because the kits are only approved for use by medical professionals, and Wu said that selling them to individuals online remains a gray area.
"We are in discussions with the drugs authorities to fine-tune the rules and facilitate sales of self-testing kits, both online and in drugstores," he said.
Ling Yu, sales manager for the Aware brand of self-testing kits, said the products have been widely available online since 2012, and sales continue to rise. "Our major targets for individual purchases are sexually active young people who use the internet a lot," he said.
Wu said online platforms, such as social networking services, are seen as efficient tools for delivering information and support to self-testers, but further research and investigation are needed to introduce self-testing to more people.
Pilot projects in which the kits will be available at selected drugstores are underway in the Shijingshan district of Beijing and in a number of cities in Yunnan province that have a high prevalence of HIV.
The findings will be helpful in guiding further expansion nationwide, Wu said.
A gay man in Beijing, who identified himself as "Xiao Tian", said he had bought testing kits online several times.
"That freed me from going to the testing clinic. I don't want to be seen there. AIDS discrimination is still rife in China," he said, adding that he is concerned about the accuracy of the self-testing kits.
"I have had negative and positive results from two separate tests conducted with the same kit," he said.