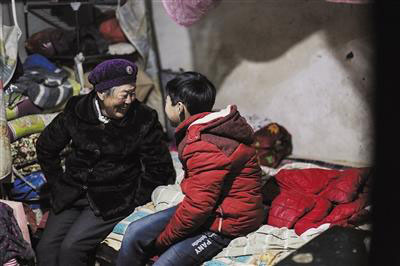 This photo shows a left-behind children with his grandmother at their home in a village in Queshan County of central China's Henan Province on February 4, 2016. [Photo: china.com.cn]
The State Council, China's Cabinet, has released a guideline on the protection of children left-behind by parents earning a living in distant cities.
The document delineates the various responsibilities of parents, the government and society at large.
The guideline stresses the parents' primary responsibilities of guardianship over left-behind children who are minors.
Their kids under the age of 16 should not be left living alone without protection while their parents are working away from home.
If the migrant workers can neither take their children with them nor have one parent stay home, they must appoint a responsible guardian.
They should also keep in touch with their children regularly and see them often, so as to keep track of their lives, studies and mental health.
The guideline also states that local governments and village committees should keep themselves well-informed of the status of left-behind children within their jurisdiction, in a bid to ensure the kids are properly cared for.
Governments at the township level must set up a file for each child and help left-behind children contact their parents, and village officials and Party members must visit the children regularly as well.
Wang Zhenyao, a professor from Beijing Normal University, comments on the guideline.
"In the past, most of these obligations were implemented by local governments at the township level, with very little support from their superior organizations. Thus, almost all the heavy burdens were shouldered by grass-roots departments lacking adequate professional assistance."
He added that with this new guideline, this year might even be marked as the year of transition towards better handling the left-behind children issue.
"Under the new guideline, a professional system will be available that specifies the obligations and responsibilities of all parties involved, which will help to ensure that the protection of left-behind children can be performed in a solid and thorough manner."
The guideline also states that a system of compulsory reporting, intervention, assessment and help will be established.
Cases involving injury, abuse or other harm must be reported to the appropriate authorities, and intervention must take place as soon as possible.
Governments can also contract charities and voluntary bodies to provide professional services.
Xu Weihong, an expert in child psychology, said the protection and caring for left-behind children requires joint efforts from across society.
"In my opinion, the issue of left-behind children is a long-term phenomenon. All sides should make great efforts and never ignore any issues connected to the children. The left-behind children need more timely psychological counseling; otherwise an ignorance as to their psychological issues could lead to serious negative effects on their overall mental health."
Recent figures show that over 60 million children are considered left-behind in the country.
Lack of proper care for many has resulted in a number of heartbreaking incidents, including a suicide of 4 left-behind siblings last year in southwest China's Guizhou Province.