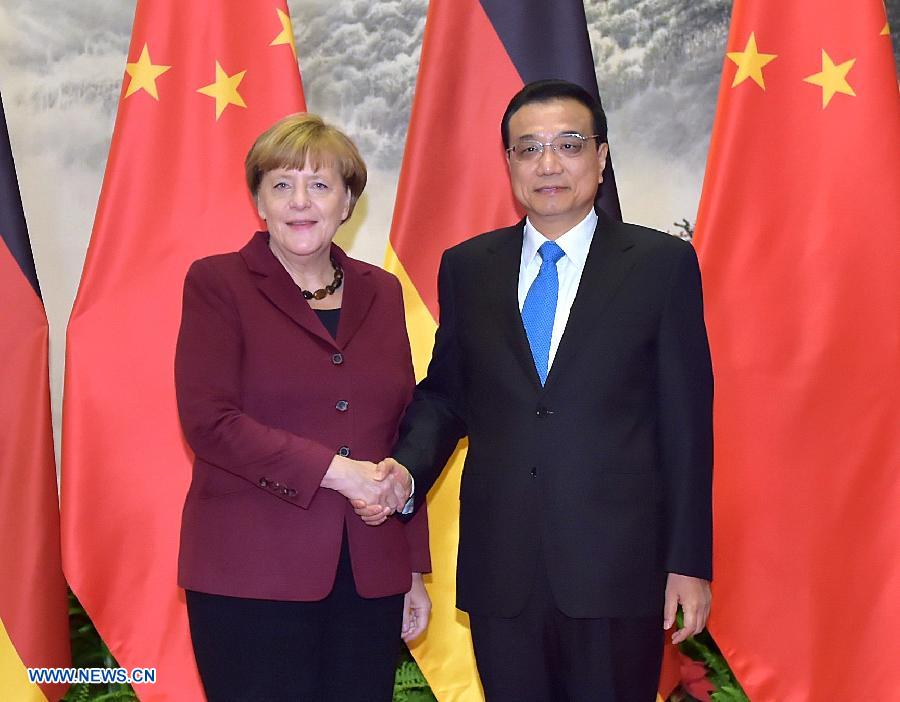 Chinese Premier Li Keqiang(R) shakes hands with German Chancellor Angela Merkelat the Great Hall of the People in Beijing, China, Oct. 29, 2015. (Xinhua/Li Tao)
BEIJING, Oct. 29-- China and Germany agreed to cooperate more as German Chancellor Angela Merkel visited Beijing on Thursday.
In the morning, Premier Li Keqiang held a red-carpet ceremony to welcome Merkel, who is on her eighth visit to China since 2005 in the capacity of chancellor, and then held formal talks with her.
The two sides agreed to maintain frequent high-level contact, promote exchanges in various fields, improve coordination on major international affairs and seek more common interests in diplomacy and security.
The two also agreed to try to coordinate their economic strategies more, as China is pursuing similar programs to integrating conventional industry and information technology.
"We need to adopt advanced technology and concepts from Germany," Li said, stressing that China offers a big market for the European economic powerhouse.
This year has been designated the Year of China-Germany Innovation Cooperation. Both sides will aim to create new growth points in investment, financial cooperation and tech.
Li called on the two countries to cooperate more in innovative development and modern urbanization as China encourages entrepreneurship to promote growth.
He also urged them to use work together to transfer their excess industrial capacity to developing countries.
Merkel said she has confidence in China's economy, believing the transformation of China's growth mode will provide new opportunities for Germany-China cooperation.
The two government heads also touched on other hot economic topics including the Asian Infrastructure Investment Bank (AIIB), RMB internationalization as well as cooperation between China and the EU.
Germany is excited to participate in establishing the AIIB, supports the RMB's inclusion in the International Monetary Fund's special drawing rights basket and backs China's application for membership of the European Bank for Reconstruction and Development, said Merkel.
She said Germany hopes China and the EU will sign a bilateral investment agreement at an early date, noting it is a prerequisite for a later China-EU Free Trade Agreement.
Li and Merkel further agreed to launch bilateral consultations on cyber affairs, boost local-level cooperation and expand people-to-people exchanges, especially among their young people.
They also exchanged views on Syria and the refugee crisis. Merkel spoke highly of China's efforts in dealing with climate change and preparation for the upcoming Paris Conference.
Following their talks, the two leaders witnessed the signing of 13 deals between the two countries, concerning finance, transportation, communication and healthcare cooperation among other fields.
Later on Thursday, China's top legislator Zhang Dejiang exchanged views with Merkel on cooperation between the two countries' legislatures.
President Xi Jinping is also scheduled to hold a meeting with her.
Accompanied by Premier Li, Merkel will pay a visit to east China's Anhui Province, Li's home province and one that has benefited from strong economic ties between Germany and China.
Li has invited Merkel to pay another visit to China next year, to co-chair the fourth round of bilateral governmental consultations. The third was held in Berlin in October 2014.
【1】
【2】
【3】
【4】
【5】