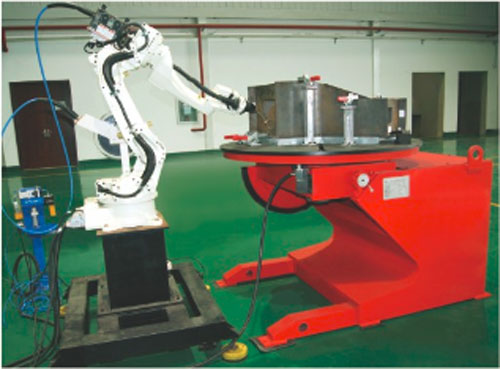 The file photo shows a laser robot. [Photo: hy-cssg.com]
A made-in-China laser robot showed its iron-cutting ability recently in Xiaogan, Hubei Province.
The robot is made by the Hubei Sanjiang Hongyang Co. Ltd.
Li Xinhua, the general manager of the company, talks about the new invention.
"It is a three-dimension digital-control laser cutting facility. It is mainly a six-axis robot with an electric-driven turntable. The core is a beam laser. With a power of 2,000 W, it can burn through a stainless steel plate very soon. We have a complete intellectual property right of it."
During a demonstration, the robot cut a square, taking minutes to do a job that Li says used to take up to an hour.
And it is also able to weld two one-km gas transmission pipelines with a diameter of two meters together, and with an error range of less than one centimeter, something traditional methods couldn't perform.