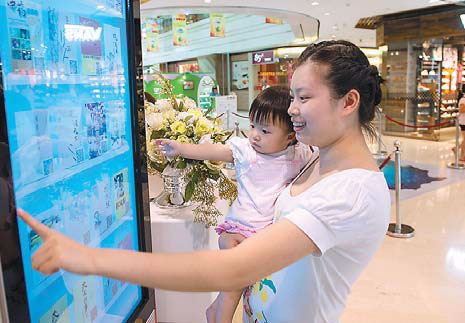 A Chongqing resident selects books from a digital library inside a shopping mall in the municipality's Dadukou district on July 22. Liu Chan / Xinhua
Beijing Newspapers and Periodicals Co, which leases out newsstand space in Beijing, plans to add more digital features and functions to its business, which has been greatly affected by the development of the Internet.
The company had introduced 11 "intelligent" newsstands in the capital by the end of March as part of a pilot program, it said.
These include light-emitting diode and liquid crystal display features offering weather and traffic control information and news. On top of the usual sale of newspapers and periodicals, customers can also access services such as recharging their cellphones, transferring money, and paying water and electricity bills at newsstand kiosks.
Cellphone users can also enjoy free Wi-Fi within 50 meters of the newsstand. They can download an app via the Internet connection to get the news and information about nearby shops.
The intelligent newsstands can also help people receive items that they bought online for collection later.
The company hopes the latest newsstands can help it find ways to adapt to the new-media landscape. Newsstand sales in Beijing have faced decline and difficulties for the past several years, Chen Yan, general manager of Beijing Newspaper and Periodicals Retail Co, was quoted by news portal people.com.cn as saying.
People's reading habits have changed and more will question the function of the newsstand in the face of growing consumption of mobile online information, Chen said.
Beijing Post Office, which runs the Beijing Newspapers and Periodicals Retail Company, will improve and broaden the functions of the newsstands based on the experience of the trial and customer feedback, Chen said.
"In the future, people will be able to download free books, films and music from the app we developed or enjoy that online," Chen said.
"We will also develop express delivery, flight and train ticket reservation and hospital appointment registration services."
The company will aim to improve the social value of the newsstands and integrate the "information islands" into the digital economy, he said.