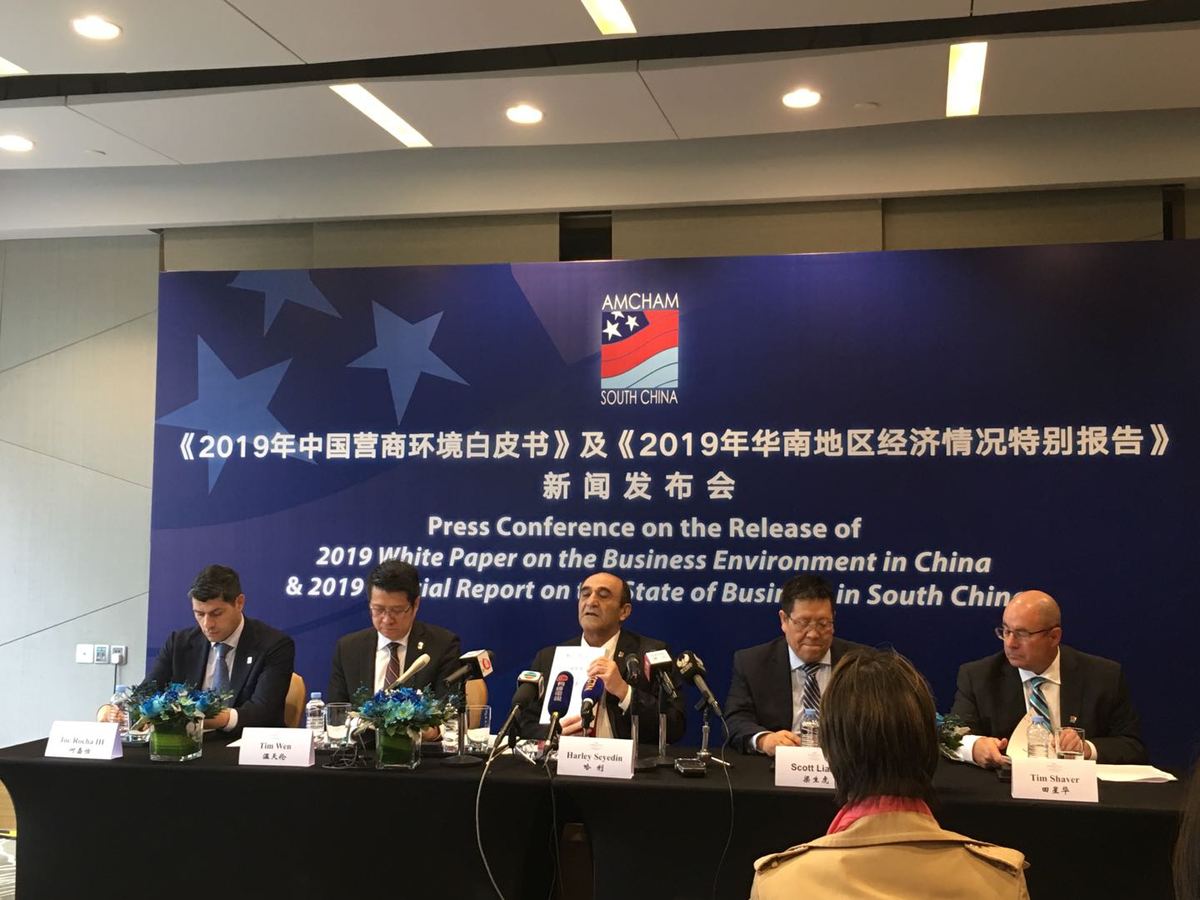 Harley Seyedin, president of AmCham South China, center, addresses the press conference in Guangzhou. [Photo by Zheng Caixiong/chinadaily.com.cn]
Guangzhou, capital of Guangdong province, was voted the most preferred destination for foreign investment from a list of 35 cities on the mainland, according to a study conducted by the American Chamber of Commerce in South China.
It is the second consecutive year that Guangzhou was chosen as the most popular city for foreign investment on the Chinese mainland, said the study.
The study includes the 2019 White Paper on the Business Environment in China and the 2019 Special Report on the State of Business in South China, published on Monday.
Harley Seyedin, president of AmCham South China, said the investment environment in Guangzhou and South China has been improving in the past years and that helps make Guangzhou the most favorable city.
"Foreign companies' confidence in South China's economic development remains high with 72 percent of the participants rating the business environment in South China as 'good' to 'very good'," Seyedin said at a press conference in Guangzhou on Monday.
"Half of the companies that participated in the study chose the Chinese mainland as their first investment destination," he said.
Meanwhile 80 percent of the companies remain optimistic about the future development of Guangdong-Hong Kong-Macao Greater Bay Area, said Seyedin.
"Continued government backing, infrastructural support and regional economic development are generally considered the top three important factors to its success," he said.
Return on investment in China last year was high with 80 percent of companies reporting very positive or positive return on their investment, according to Seyedin.
Amcham membership increased their 2019 China reinvestment budgets from profits by a whopping average of 37.9 percent over 2018, said Seyedin.
"The primary business focus of 76 percent of American companies is providing goods or services to the mainland market, while 24 percent focus on manufacturing for exports," he added.
A total of 256 companies participated in the 2019 study and responses of 240 companies were finally adopted to ensure a high degree of data integrity.
Participants in the study included companies from China, the United States, European Unions and Australia.