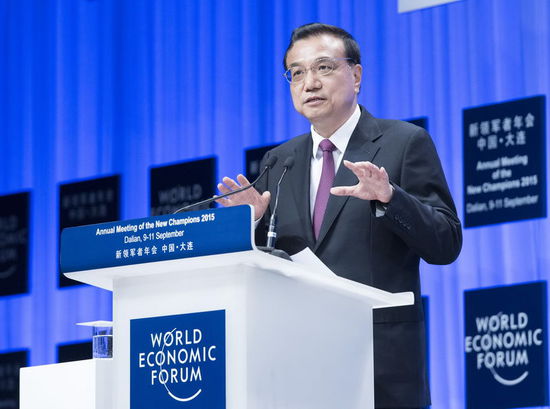 (Photo/Xinhua)
Chinese Premier Li Keqiang on Thursday delivered a speech on China's economy at the opening ceremony of the World Economic Forum Annual Meeting of the New Champions in northeast China's Dalian, also known as Summer Davos.
Economists said the speech expressed unwavering resolution to advance reforms and opening up and demonstrated China's contributions to global economic growth.
The following are selections from the speech and comments from economists reported by the Economic Daily and China Daily.
THE ECONOMY, SLOWING BUT RESILIENT
"The performance of the Chinese economy is stable and moving in a positive direction. Although difficulties remain, there are more opportunities than challenges," Li said in his speech.
He noted China is capable of meeting the main goals and tasks set for economic and social development this year.
Arancha Gonzalez, executive director of the International Trade Center, a joint agency of the World Trade Organization and the United Nations, spoke highly of Li's speech. "He acknowledged challenges and gave solutions. We can feel his confidence," she said.
China's economy expanded 7 percent in the first half of the year, the lowest reading since the global financial crisis broke out in 2008, but reform is progressing steadily and the economic structure is improving.
Megan Walters, international director and head of research at Asia Pacific Capital Markets, said the government has sufficient tools in place to ensure a gentle transition from investment to consumption inside the economy.
"So there is and will continue to be a rebalancing of the economy, and it will not be a hard landing," Walters said.
Experts also pointed out that China's economy is not a source of risk but a source of confidence, growth and opportunity, and an indispensable partner for global prosperity.
CHINA'S REFORM AND THE GLOBAL ECONOMY
Li said in his speech that nations can only weather global economic hardship through reforms and coordinated policy.
"The recent volatility in the international financial market has affected the global economic recovery," Li said. "It is imperative for countries to step up macro-economic policy coordination, maintain stability of the financial markets through concerted efforts and bring the global economy back on the track of healthy growth."
Li said policies such as quantitative easing cannot fully address the structural hindrances to growth, and they may lead to negative effects.
"What is important is to strengthen the real economy. This would require that countries advance structural reform at home and strengthen international cooperation," Li said.
Echoing his words, Yang Tao, assistant director of the Institute of Fiance and Banking under the Chinese Academy of Social Sciences, said the biggest risk in the global economy stems from the imbalance in development of different countries.
Expectations over a rise in interest rates in the United States will reverse global capital flow, helping developed countries that are already in sound recovery but exacerbating conditions in emerging economies struggling to keep afloat, Yang said.
He dispelled the recent misunderstanding that China's tumbling stock market is responsible for global financial volatility.
On the contrary, China's economic restructuring, after temporary pains, will not only improve the quality of the country's growth, but ease global imbalance, facilitate recovery and boost confidence, Yang said.
RMB AND THE ECONOMY
"We will continue to keep the RMB basically stable at an adaptive and equilibrium level, and gradually make the RMB convertible under the capital account," Li said.
His words came after the Chinese currency, the renminbi (RMB), experienced major drops in August after China improved the formation system of the RMB central parity rate to make the exchange rate more market-based.
There is no basis for long-term depreciation of the currency and the current decline is not designed to stimulate weak exports, said Li while talking with business leaders on Wednesday.
"By the end of the year, the China International Payment System will be launched to support further development of the offshore RMB market," Li said in the speech, noting China will make sure there will be no regional or systemic financial risks.
Li Daokui, a renowned economist at Tsinghua University, said the speech suggested the government's determination to keep the RMB stable, noting the recent adjustment will not lead to the export advantages predicted by some analysts.
He said China has no need to rely on a cheaper RMB to boost growth as it has plenty of policy tools, such as financial innovation, untapped fiscal resources and other expanding measures.
OVERSEAS INVESTMENT
Li said China will continue to open its markets, and there will be no change in China's overall policy on foreign investment, promising steps will be taken to ensure greater openness.
In 2015, China expanded the number of industries open to foreign investors by scrapping half of the restrictions.
"We will continue efforts to make China one of the most appealing destinations for investment," Li added.
Given rising labor costs and land prices, there have been worries in recent years that multinationals will relocate their assembly lines to Southeast Asia.
Ding Yifan, an economist with the Development Research Center of the State Council, said China remained attractive to foreign capital as it became the world's largest investment destination in 2014.
"More and more foreign firms have begun to seek opportunities in China, especially in the service industry," Ding said.
He expects China will continue to be a strong magnet for overseas investment thanks to an improved business environment created by ongoing reforms.
INDUSTRIAL COOPERATION
Li called for stronger international cooperation in production capacity in order to solve structural problems in global growth and inject new vitality into the world economy.
As a manufacturing powerhouse, China can supply developing countries with high-quality equipment at a low price with advanced technology purchased from developed countries, serving as a bridge in cooperation, Li said.
Chen Fengying, director of the Institute of World Economic Studies at the China Institutes of Contemporary International Relations, said industrial cooperation satisfies the demands of countries in different stages of industrialization.
"Cooperation is in line with current globalization trends and will be a major boon to world economic growth in the future," Chen said.