State infrastructure giant to cooperate with Qatari firm on Pakistan project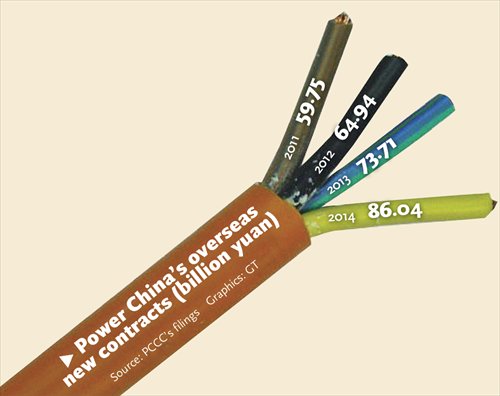 A subsidiary of State-owned infrastructure giant Power Construction Corporation of China Ltd (Power China) announced on Thursday that it will cooperate with a Qatari company to build a $2 billion power plant outside Karachi in Pakistan to overcome local energy shortage.
According to Power China's exchange filing to the Shanghai Stock Exchange, Sinohydro Resources Ltd, a wholly owned subsidiary of Power China and an arm of the parent company's overseas investment business, will cooperate with Al Mirqab Capital, a Qatari investment firm, to jointly build a coal-fired plant in Qasim, some 37 kilometers southeast of Pakistan's economic powerhouse Karachi.
Total investment will be around $2.09 billion and the Chinese firm will own a 51 percent stake and its Qatari partner a 49 percent stake in the project.
"The issue of connectivity lies at the center of the current stage cooperation between China and Pakistan, and this includes infrastructure projects like grids, roads, railways, and cable networks," Tian Yun, chief editor of the China Macroeconomic Information Network, told the Global Times on Thursday.
Infrastructure projects are the prerequisites for further bilateral economic cooperation, like those in the industrial sectors, Tian said.
"China faces a power glut and a shrinking market in power plant construction," Lin Boqiang, director of the China Center for Energy Economics Research at Xiamen University, told the Global Times on Thursday.
Overseas power projects in general have better yields than domestic ones as the price of electricity is usually higher abroad and it is only natural for domestic companies to look for opportunities abroad, Lin said.
Experts say the rapidly developing textile industry in Pakistan, as well as emerging industries such as processing trade, and a swelling middle class on top of a large population base have created a strong demand for electricity in Pakistan.
The Pakistan government has announced it will add 10,400 megawatts (MW) to the national grid with the help of China by 2017, the Dawn newspaper in Pakistan reported in March.
Tian applauded the involvement of capital from a partner country as the financing pressure for the infrastructure project is shared and suggested the practice be copied by other Chinese invested projects.
He noted that Chinese companies have significant cost performance advantages in building infrastructure projects.
"In the long run, Chinese companies would have the option to relocate some of its production capacity to Pakistan, due to the country's large population base and relatively low labor cost," Tian said.
The plant in Qasim will have two 660 MW generators and will take 32 months to complete, planning to use seaborne coal from Indonesia as fuel in the future, according to the Power China filing.
The company said possible risks include foreign exchange loss, overdue payments of electricity fees, and stability issues.
The risks in payment can be lowered by working on contract terms, Lin said.
Sinohydro's existing overseas projects include hydro plants in Cambodia and Laos, according to the company's website.
The filing said the Qasim plant was identified as one of several early-harvest projects of the Sino-Pakistan Economic Corridor proposed by Chinese Premier Li Keqiangduring a visit to Pakistan in May 2013.
"For China, which wants to achieve a higher level of regional economic cooperation, steps must be taken to get the ball rolling, and countries like Pakistan should be among the first to feel such a push," Tian said.
Power China's overseas investment has increased in the past few years with the volume of its new contracts reaching 86.04 billion yuan in 2014, up from 73.71 billion yuan in 2013.